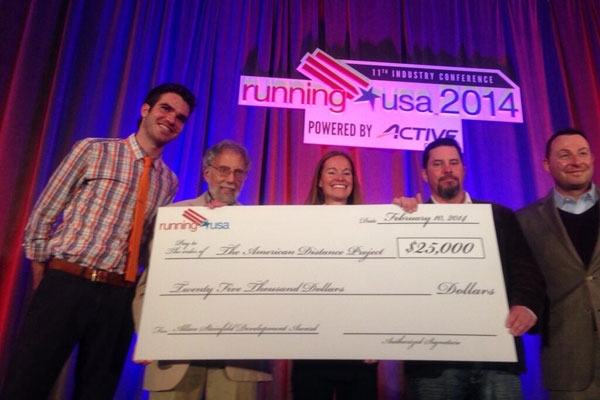 SAN DIEGO – (February 10, 2014) – At the Running USA Hall of Champions Dinner & Auction on Monday evening at the Marriott Marquis & Marina, two Hall of Champions inductees and the 5th Allan Steinfeld Development Award winner were celebrated and feted.
The evening, presented by Competitor Group, was part of Running USA 2014 The 11th Industry Conference powered by ACTIVE NETWORK that opened Sunday to a record 550 attendees in America's Finest City.
The 11th class of Running USA Hall of Champions was recognized for their contributions and impact to the sport. The 2014 inductees, the 42nd and 43rd overall, were:
Jeff Galloway (Atlanta, GA), 1972 Olympian / author / speaker / founder of run-walk training program / pioneer
Scott Keenan (Duluth, MN), Co-founder of Grandma's Marathon (1977) / long-time (and first) Grandma's Marathon Executive Director (1977-2013) / leader
"Tonight, Jeff Galloway and Scott Keenan were welcomed to our Hall of Champions as we honored and saluted the two for their contributions to the sport over the past four decades, and both have served the sport with such distinction," said Rich Harshbarger, Running USA CEO.
Also at the Monday evening awards banquet and live auction, American Distance Project was introduced as the 5th Allan Steinfeld Development Award recipient with accompanying $25,000 grant. The development award was named after Allan Steinfeld, who jump-started the U.S. distance running resurgence when as head of the New York Road Runners he allocated $20,000 seed money for the development program Team USA Distance Running. The program, launched in November 2000, produced training groups such as Team Running USA (two Olympic medals in 2004 and major marathon wins) and Team USA Minnesota (winner of the inaugural development award) and inspired the formation of others. Steinfeld is also a co-founder and President Emeritus of Running USA.
"The American Distance Project represents exactly why Running USA created the Allan Steinfeld Development Award: to support and promote talented U.S. athletes. It was a great pleasure recognizing their dedication to be the best and presenting them with the $25,000 grant," said Rich Harshbarger, Running USA CEO.
"It is a great honor for the American Distance Project to accept the 5th Allan Steinfeld Development Award. The award validates our efforts to develop American distance runners as we join the ranks of post-collegiate programs such as Team Running USA who have turned around what was a downward slide into a new reality where Americans not only have the potential to medal at the Olympics and World Championships, but they now reach the podium," said Scott Simmons, ADP head coach.
The American Distance Project, founded in 2011 and based in Colorado Springs, Colorado, has grown both in number of athletes and in national and international prominence. Sixteen of the ADP's 26 athletes are U.S. Olympic Trials and USA Championship qualifying athletes. In 2013, twelve ADP athletes were ranked either nationally or in the world in their events by Track & Field News. To-date, twelve distance runners have competed on Team USA in international competition.
For more information on the team, go to: www.americandistanceproject.com
In addition, at the event, the inaugural "Runners Roast" featured Bart Yasso, Runner's World's Chief Running Officer and Running USA Hall of Champions member (2007). Roasters were Mike Reilly, David Willey, Rick Nealis, Mike Rouse and Ryan Hall who shared their entertaining stories of Bart.
Presenting sponsors of Running USA 2014 are Ashworth Awards, ChronoTrack, Competitor Group, Leslie Jordan, Inc. and MarathonFoto.com.