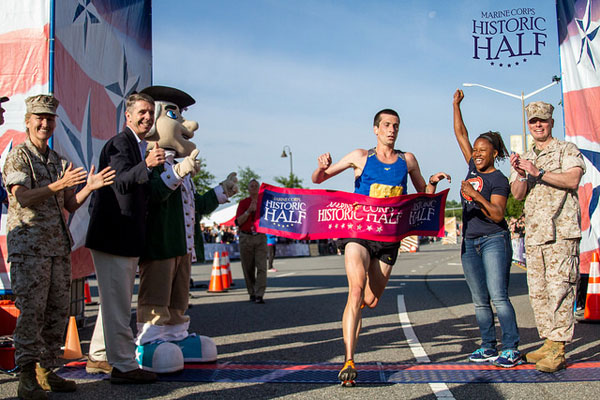 FREDERICKSBURG, Va. – It was an epic day at the Marine Corps Historic Half in Fredericksburg, with two course records set and the second-most finishers (6,020) in the event's seven-year history. Area runner and Historic Half record holder Tim Young crossed the finish line in one hour, 5 minutes, 9 seconds, breaking his own course record of  1:06:57.
Erika Weidman, 23 of Alexandria, VA also broke the women's Historic 10K course record by six seconds with her 44 minute, 28 second finish.
The Historic Half, Historic 10K and Semper Fred 5K started simultaneously at 7 a.m. with cheering spectators lining each course. Together, the three events garnered a total of 7,545 finishers.
U.S. Olympian Lauryn Williams motivated runners crossing the finish on the Carl D. Silver Parkway in Fredericksburg's Central Park. She is the first American woman to win medals in the Summer and Winter Olympic Games.
U.S. Marines armed with spectacular finisher medals flanked Williams and U.S. Congressman Rob Wittman (R-VA), who congratulated the finishing runers.
"I was feeling great throughout the course and it is great to be back," said Young, draped in the Historic Half break tape. Young, 27, completed and won his third Historic Half, setting the initial record in 2009.
Stephanie Fulmer, 24, of Arlington, VA finished first among Historic Half women completing the 13.1 mile course in 1:25:18. Fulmer was able to shave 20 seconds off her personal record for the half marathon distance.
Army Lt. Col. Keith Matiskella, 42, of Alexandria, Va. finished second among top males completing the Historic Half in 1:12:21. Matiskella also took top honors as the first place Active Duty finisher and was presented an award by BAE Systems, a Historic Half sponsor. Placing third among the men was Jeremy Lynch, 33, of Springfield, Va., running
the course in 1:15:42. Lynch, a six-time Historic Half finisher, was also the winner of the Marine Corps 17.75K on April 12.
Placing second among Historic Half women was Kate Dochelli, 26, of Richmond, Va., who completed the
event in 1:26:02.
In its second year, the Historic 10K hosted 772 finishers. Aaron Naraine, 15,  finished first place in 40:32, just nine seconds ahead of second place finisher Anthony Brooks, 17.
Fourteen-year-old Philip Lambert took top honors in the Semper Fred 5K, finishing in 19:32. Springfield runner, Yuko Whitestone, 42, finished first place among Semper Fred 5K women in 22:26.
Marine 2nd Lt. Kate Sullivan, 23, stationed at The Basic School at Marine Corps Base Quantico, also was presented Top Active Duty honors by BAE during the Historic Half Awards Ceremony.
The nearly-perfect day for running was complete during an emotionally-charged finish as Plainfield, N.J. runner David Mercado became the final finisher of the Marine Corps Historic Half. Surrounded by U.S. Marines cheering him in cadence, Mercado admitted:
"A year ago I weighed 440 pounds and couldn't run a mile and now look at me today."