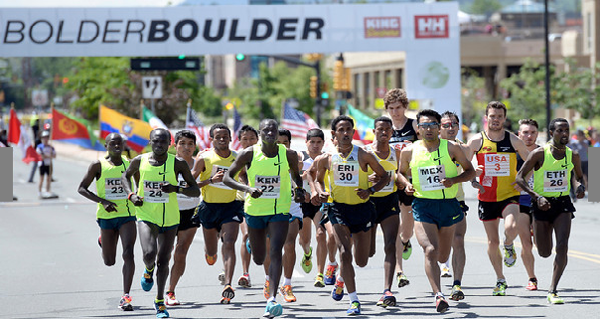 BOULDER, Colo. 2014 – BolderBOULDER, America's All-Time Best 10K, today announced that 52,115 walkers, joggers and runners registered for the 2014 race and 45,828 racers crossed the finish line this Memorial Day. The registration and finisher numbers do not reflect the additional 2,600 service men and women that participated in BolderBOULDER military satellite races around the world.
"We knew going into today that we had registration numbers close to 50,000 and then we registered an additional 1,100 runners on race day, making it the third largest race day registration in the history of the BolderBOULDER," said race director Cliff Bosley.
Scott Dahlberg, 29, from Fort Collins, Colo. won the men's citizen's race with a time of 30 minutes, 50 seconds and Sarah Crouch, 24, from South Lake Tahoe, Calif. won the women's race with a time of 35:12.
Following the BolderBOULDER road race was the International Team Challenge. The BolderBOULDER established the International Team Challenge in 1998 and it includes professional runners from all over the world that compete on three-person teams in a team by country format, for one of the largest non-marathon prize purse races in the country. This year's total prize purse is valued at $145,240 before bonuses.
This year's men's individual International Team Challenge winner was Afewerki Berhane from Eritrea, finishing the race in 29:11 and the women's winner was Mamitu Daska from Ethiopia with a time of 32:22. The men's team from Eritrea and the women's team from Ethiopia claimed first in the team competition.
"We know that professional athletes who are altitude trained consistently do very well at the BolderBOULDER," said BolderBOULDER professional athlete coordinator Don Janicki. "The top three men's and women's team including the USA Red teams all have athletes that train at altitude."
Also, new to this year, the BolderBOULDER added a bounty of $1,886 (the year in which Memorial Day was founded) to any American finishing ahead of any member of the highest placing American team. This year, Sean Quigley from the USA Blue teamed received the bounty, finishing 7th overall, as well as USA Blue women's team members Brianne Nelson and Mattie Suver. Shalane Flanagan led the American women in second place
The event finished with a touching Memorial Day Tribute at the University of Colorado Folsom Field with more than 100,000 people in attendance. Skydivers each carrying a flag from a US military branch landed in the center of the stadium and following, Brigadier General William F. Mullen conducted an enlistment ceremony with over 50 recruits. The ceremony also honored two World War II veterans, Dr. Richard Jessor from Boulder, Colo. and Jack Thurman from Longmont, Colo. The day was then capped with a flyover from the Rocky Mountain Renegades, a group of professional and retired military pilots from along the Front Range of Colorado.
36th BolderBOULDER 10K
Boulder, CO, Monday, May 26, 2014
MEN
1 Afewerki Berhane ($4,000) Eritrea 29:11 $4,000+
2 Allan Kiprono ($3,000) Kenya 29:13 $3,000+
3 Solomon Deksisa ($2,250) Ethiopia 29:22 $2250
4 Juan Nieves ($1,500) Mexico 29:30 1,000 $500
5 Samson Gebreyohannes ($1,050) Eritrea 29:48 $1050
6 Tilahun Regassa ($950) Ethiopia 30:00 $950
7 Sean Quigley ($3,068) USA White (Lafayette, Colo.) 30:05 $3068*
8 Byron Piedra ($500) Ecuador 30:10 $500
9  Ryan Hall ($800) USA Red (Flagstaff, Ariz.) 30:13 $800
10 Kiflom Sium ($300) Eritrea 30:22 $300
WOMEN
1  Mamitu Daska ($4,750) Ethiopia 32:22 $4,750
2  Shalane Flanagan ($6,500) USA Red (Portland, Ore.) 33:05 $6,500+
3  Risper Gesabwa ($2,000) Kenya 33:39 $2,000
4  Deena Kastor ($2,500) USA Red (Mammoth Lakes, Calif. ) 33:59 $2,500+
5  Santa Huiza ($800) Peru 34:19 $800
6 Amane Gobena ($700) Ethiopia 34:25 $700
7 Agnes Cheserek ($600) Kenya 34:39 $600
8 ZemZem Ahmed ($500) Ethiopia 34:49 $500
9 Nazret Gebrehwet ($400) Eritrea 35:02 $400
10 Letekidan Hailemariam ($300) Eritrea 35:02 $300
11 Brianne Nelson ($1,868) USA Blue (Colorado Springs, Colo.) 35:05 $1,868*
12  Millicent Kuria Kenya 35:08
13 Mattie Suver ($1,868) USA Blue (Colorado Springs) 35:10 $1,868*
TEAM – MEN
1 ERITREA ($15,000) 1-5-10 16 $15,000
2 ETHIOPIA ($10,000) 3-6-15 24 $10,000
3 USA RED ($17,500) 9-11-12 32 $17,500+
4 KENYA ($6,000) 2-16-22 40 $6,000
5 MEXICO ($4,000) 4-18-25 47 $4,000
TEAM – WOMEN
1 ETHIOPIA ($15,000) 1-6-8 15 $15,000
2 KENYA ($10,000) 3-7-12 22 $10,000
3 USA RED ($17,500) 2-4-16 22 $17,500
4 ERITREA ($6,000) 9-10-15 34 $6,000
5 PERU ($4,000) 5-14-17 36 $4,000
*USA "bounty" for finishing higher than a member of the first USA team
+Includes time/training fund bonus