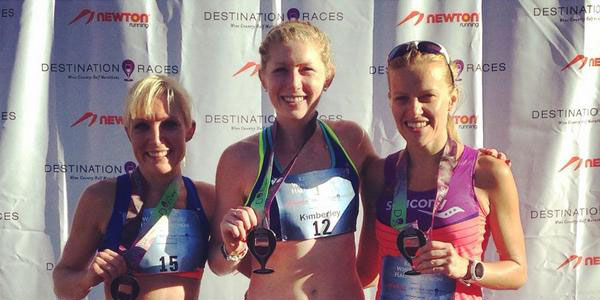 KELOWNA, B.C. – Canadian Kimberly Doerksen became the first woman to claim the title of overall champion at the 2nd edition Kelowna Wine Country Half Marathon, presented by Newton Running and produced by Destination Races.
Doerksen wins overall
The 23-year-old Doerksen, from Gibsons, BC, covered the 13.1 mile course in 1 hour, 15 minutes, 55 seconds, eclipsing her own course record by over two minutes – a mark she set in the inaugural event last year.  Doerksen's winning time averages out to a pace of 5:48/mile.  Men's champion Andrew Maxwell of Santa Barbara, California ran a 1:17:43, finished runner-up to Doerksen overall and beat 2nd place men's finisher, Rory Switzer, 53, of Kelowna.
The race was held on a picturesque day, starting at The Vibrant Vine at 7:00am, as 1,400 runners passed through the sun-drenched vineyards and apple groves, and ultimately descended upon the waterfront of Okanagan Lake.  The race drew participants from every Canadian province and territory, with eight US states represented as well.  Highlighting this year's race was Canadian adventure racing extraordinaire Simon Donato. He is the host of Boundless, a North American television program that showcases Donato's global experiences in ultra-endurance challenges.
"I had a great time out there today," elated Donato. "What a beautiful race course and a beautiful day to race. A lot of the races I do are high stakes with a television crew there as part of the TV show, so it's always nice to breakaway to a race that's in your back yard; see someplace that's a little bit different that's also a beautiful destination."  Donato concluded, "The atmosphere at this event is so different and it's a stress free, fun day. I'll definitely be indulging in some delicious wines from the Okanagan Region."
The male and female champions had similar experiences on the course.  Doerksen noted, "It was nice and cool for the race start, and even though the course is deceivingly hilly, the overall amount of downhill made for a spectacular race."  She also claimed that one of the reasons for her return to the race was the scenery, stating, "The overall views are absolutely amazing; nearly unrivaled here in BC."  Finally, when asked about what it was like to be the Overall Champion, Doerksen smiled and said, "I like being a girl and beating the boys!"
Andrew Maxwell, the male champion, was all praise for the race and Doerksen.  "It was one of those days that I just went out to have fun. Destination Races is so good at putting on entertaining races in beautiful places."  Regarding Doerksen's performance Maxwell added, "Anybody that can run a 1:15; hats off to them.  That's a smoking fast time and they deserve that top spot on the podium."
The post-race Wine & Music Festival featured wine tasting, food, beer, bands and the awards ceremony at Waterfront Park, along the shores of Okanagan Lake.  Twelve wineries and Lagunitas Brewing Company poured at the festival while exhibitors offered product samples and demonstrations.  Each finisher received a performance running shirt, a unique Riedel wine glass and a finisher's medal that doubles as a bottle opener.  The top three finishers in each category received bottles of wine from various Okanagan wineries.
YMCA Strong Kids Foundation & YMCA of Okanagan Valley and the University of British Columbia Heat & Athletic Programs were the beneficiaries of this year's race, with a percentage of registration fees going to each program.
"If there ever was a perfect day for Destination Races, this was it." said Matt Dockstader, Founder and Race Director of Destination Races. "Everyone had a great time and raved about the course and the event.  Kelowna proved to be a worthy host of our Wine Country Half Marathon Series, as the community support was incredible." Dockstader was thrilled to see Kimberly Doerksen win the race, adding, "Our races are typically over 70% women, so it's only fitting that the champion is representative of our participants."