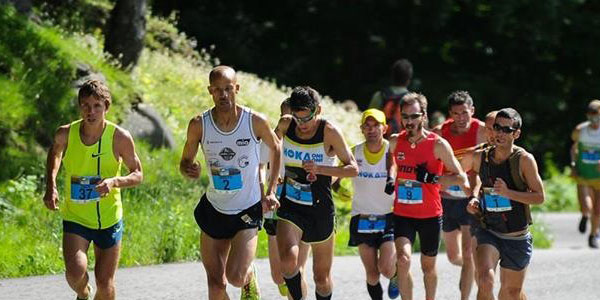 PINKHAM NOTCH, NH (June 21, 2014) – Veteran mountain runner Joseph Gray had tried and come so close each of the last three years.
Shannon Payne, a newcomer to running the hills, was giving the Northeast Delta Dental Mt. Washington Road Race her first shot.
The two runners from Colorado Springs, Colorado, broke through in a major way on Saturday and won the men's and women's titles at the 54th running of this grueling all-uphill race in impressive fashion on a decent, but windy and chilly, day for racing.
Temperatures were in the high 40s at the base at the 9 a.m. starting time, and at the summit it was in the mid-30s, with winds gusting from 20 to 35 miles per hour.
Gray, 30, looked strong from the start and pulled away from defending champion and three-time winner Eric Blake of West Hartford, Connecticut, just past the halfway mark of the 7.6-mile trek up the Mt. Washington Auto Road to the highest peak in the Northeast.
Gray finished in a time of 59 minutes and nine seconds. Blake, 35, the cross country and track and field coach at Central Connecticut State University in New Britain, finished in 1:00:01, four seconds slower than his winning time last year.
Payne, 28, had run her first mountain race at the Black Canyon Ascent in Colorado only last month. She was a little wary of the Mt. Washington course when she got her first look at it on Friday by car on a tour conducted by 2012 winner Sage Canaday.
"Driving up, I was like, 'Oh my gosh, this looks brutal,'" Payne said. "People run up this? All the way?"
She did. And fast.
She turned in a time of one hour, ten minutes and 12 seconds to edge Valentina Belotti, 34, of Italy by more than a minute and a half.
Both Payne and Gray turned in the fifth fastest times ever in their respective races, and each collected $1,000 for the win. Gray got an extra $500 for breaking an hour.
It was the first time since 2010 and only the second time since 1997 – when Craig Fram of Plaistow, N.H., and Cathy O'Brien of Durham, N.H. were victorious – that both the male and female races crowned a first-time winner.
Gray lined up his fist pump even before he got to the finish line and then let it go, wearing a huge smile, as he broke the tape.
He was fourth in his Northeast Delta Dental debut in 2008, third in 2009 and 2010 and runnerup in each of the last two years.
This year's race was all his.
"It was tough," said Blake, who won this race in 2006 and 2008 as well as last year. "I had been running real well and was in good shape. Joe's strong. He took off pretty hard and I couldn't stay with him after the first half. He put on a little surge and broke me."
Last year, Gray, who has been splitting his time between Washington State and Colorado Springs, led Blake for much of the race but could not hold him off and had to settle for second.
"Today I felt pretty good and pretty comfortable," Gray said. "Eric's a very experienced runner,  and I knew if I was running with him that late in the race, we must be on a pace to run a solid race. . . . Eric never drops off. He's always testing you. He pushes you. It makes you nervous to have him behind you."
Gray kept him there this time.
Canaday, 28 of Boulder, Colorado, was third in 1:01:30. Two newcomers to the race, Zach Miller, 25, of Manitou Springs, Colorado, and Ryan Bak, 32, of Bend, Oregon, were fourth and fifth.
Belotti, 34, and her husband, Emanuele Manzi, 36, are both world class runners and were at the Northeast Delta Dental Mt. Washington Road Race for the first time.
Manzi finished eighth in 1:06:27.
"We don't have any races like this in the Alps," Manzi said. "It's different from our mountains, very steep. It's a fantastic race."
Brandy Erholtz, who won the race in 2008 and 2009, was third on the women's side in 1:15:38.
Kasie Enman, 34, of Huntington, Vt., and the World Mountain Trophy winner in 2011, was fourth in 1:17:12.
image credit: Scott Mason