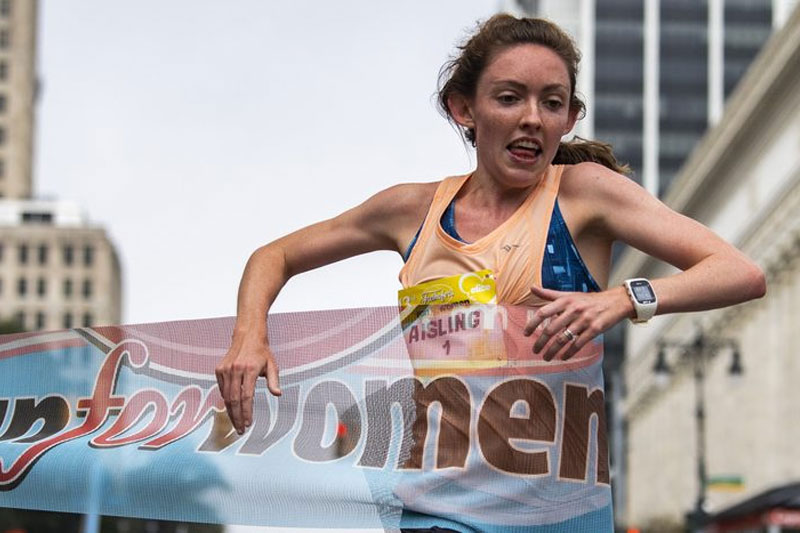 ALBANY, N.Y. (Sept. 25, 2021) – Aisling Cuffe of Concord, Mass., surged to an early lead that she never relinquished for a dominant victory in the 43rd Freihofer's Run for Women in Albany, N.Y.
Aisling Cuffe Dominates Field In 43rd Freihofer's Run
Cuffe, wearing bib No. 1, finished the 5-kilometer race in 16 minutes, 34 seconds, which was 40 seconds ahead of her nearest competitor.
The 28-year-old Cuffe, who ran high school cross-country and track for Cornwall Central High School and was competing in the prestigious all women road race for the first time, earned a $3,000 first-place prize on a cool, crisp early autumn morning.
Cuffe paced a field of more than 1,200 women. As she zoomed down the final stretch about 50 yards ahead of the nearest runner, Cuffe received a round of applause from spectators lining Washington Avenue adjacent to the New York State Capitol building.
"I love races like this where you get to see the other people in the race," Cuffe said. "Even the start, when Event Director Kristen Hislop was announcing the birthdays, I love that! The number of people who come out and share in the sport of running, having fun together, it's so inspiring. I love it!"
Traditionally run the Saturday after Memorial Day, the Freihofer's moved to September due to the COVID-19 pandemic. The race still drew a field of elite runners from throughout New York state and New England, as well as hundreds of local recreational runners. Their ages spanned from nine to 89.
"As always, I think it's one of the most spectacular events of the year," exclaimed Hislop. "It was so amazing to feel the energy of all the women and have so many come up and say, 'Thank you for doing this, thank you for having it in person and keeping the tradition the going.' It warms my heart."
Five of the top 10 finishers were from the immediate Capital Region, including second-place finisher Cara Sherman, a former distance runner for the University at Albany and nearby Mohonasen High School in Rotterdam, N.Y. The 24-year-old finished in 17:14.
"I was surprised to finish so high, but I hit the time I was shooting far," Sherman said. "I thought I'd be around 17:15, so I was pretty happy with that."
Annika Sisson, a 25-year-old from Pawtucket, R.I. who competed at the NCAA regional meet several times in college in the 1500 and won six conference titles for SUNY Stony Brook, was third in 17:24.
The entire field was chasing Cuffe throughout. She opened about a 10-stride lead by the half-mile mark. When the field turned into Washington Park and approached the first mile marker, Cuffe glanced over her shoulder. There was no one in sight.
She had blazed her first mile in 5:31.
"I have a tendency to not start fast enough," said Cuffe, who ran cross country and track at Stanford University and is training to be a physical therapist in Massachusetts. "I normally rely on the field to drag it out of me. I didn't feel like the field was doing that, so I knew I had to go."
While Cuffe ran virtually uncontested through scenic Washington Park, the masters (over 40) field grew increasingly competitive.
Syracuse resident Sascha Scott, 46, actually improved her mile splits at every interval and captured the masters race in 18:17.
"We were all pretty close at the start and came through the first mile in a real relaxed pace," said Scott, who had run the Freihofer's once before, about 13 years ago. "I decided to pick it up the second mile and ran the third mile as fast as I could."
An associate professor of art history at Syracuse University who holds a pending American age-group record in the mile (4:53.52), Scott was followed to the finish line by Marisa Sutera Strange (18:56), a 2020 USATF Masters Hall of Fame inductee, and Renee Tolan (18:57) of Clifton Park, N.Y., who was competing for the Albany Running Exchange Racing Team.
They were among the 1,024 women who completed the race and were able to celebrate together in the shadows of Albany City Hall.
"It's very different to run this race in September," said Sutera Srange, 58, who resides in Millbrook, N.Y., and has competed many times. "I'm just grateful they were able to pull this off. It's such a great event."
results: 43rd Freihofer's Run for Women 5K
Open
1 Aisling Cuffe (Concord, Mass.) 16:34 ($3,000)
2 Cara Sherman (Schenectady, N.Y.) 17:14 ($2,500)
3 Annika Sisson (Pawtucket, R.I.) 17:24 ($2,000)
4 Caitie Meyer (Albany, N.Y.) 17:34 ($1,500)
5 Kerry Allen (Washington, D.C.) 17:39 ($1,250)
6 Karen Bertasso Hugh (Selkirk, N.Y.) 17:42 ($1,000)
7 Tricia Longo (Waterford, N.Y.) 17:50 ($750)
8 Sarah Danner (Gowanda, N.Y.) 17:57 ($500)
9 Elizabeth Debole (Albany, N.Y.) 18:02 ($250)
10 Sascha Scott (Syracuse, N.Y.) 18:17 ($200)
Masters
1 Sascha Scott (Syracuse, N.Y.) 18:17 ($1,000)
2 Marisa Sutera Strange (Millbrook, N.Y.) 18:56 ($800)
3 Renee Tolan (Clifton Park, N.Y.) 18:57 ($600)
4 Laura Kline (Syracuse, N.Y.) 18:59 ($400)
5 Erin Lopez (Ivoryton, Conn.) 19:01 ($200)