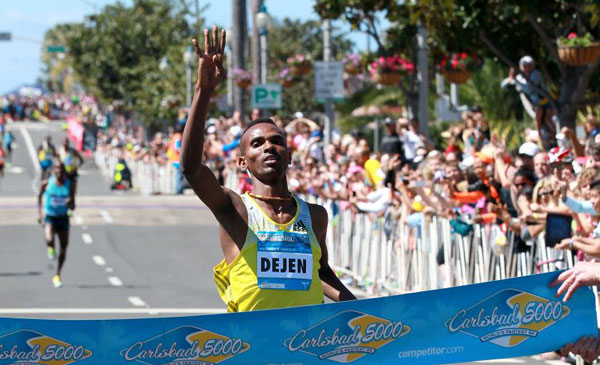 CARLSBAD, Calif. – March 30, 2014 – Racing against 39-year-old multiple Olympic medalist and four-time world champion Bernard Lagat at the 29th Carlsbad 5000, 24-year-old Dejen Gebremeskel of Ethiopia knew he had to use experience to his advantage on Sunday morning.Bernard Lagat finishes second in 13:19, breaking American 5K road record; Gebremeskel becomes first 4-time champion in history of the "World's Fastest 5K"
Employing two hard, sustained surges inside the final kilometer of the race, the three-time defending champion out-ran Lagat—and everyone else—to the tape, breaking it in 13 minutes and 13 seconds to claim his fourth straight victory. Lagat, who was racing in Carlsbad for the first time, held on for second in 13:19, breaking Marc Davis' longstanding U.S. record of 13:24, set in 1996. Kenyan Augustine Choge finished third in 13:22.
"To win here for the fourth time is very special," said Gebremeskel. "After the first mile, there was wind and I could not push. Bernard is a 1500m runner; that is his specialty and he has a good kick. I knew I could not sprint with him, so I had to go."
Hitting the mile in an honest 4:14, Gebremeskel and Lagat were joined by Choge, fellow Kenyans Edwin Kipyego (4th, 13:26) and Haron Lagat (6th, 13:39), Diego Estrada of the United States and Tariku Bekele of Ethiopia (7th, 13:45). Making the sharp hairpin turn north on the Pacific Coast Highway, Choge forced the pace up the gradual incline, but could not shake any of his pursuers.
By 2 miles, passed in 8:34, the pack had been whittled down to four, as Gebremeskel, Lagat, Choge and Kipyego ran four wide across the road to the deafening cheers of spectators lining both sides of the course. Less than 600 meters later, however, it was suddenly a two-man race, as Lagat and Gebremeskel engaged in a 1000-meter duel to the finish line.
"It's a big advantage [for him]," Lagat said of Gebremeskel's course experience. "I knew from history that this course would be a challenge. It's not that easy even though it looks flat. I went in with the mindset to have fun, stay relaxed as much as possible. Dejen was right there pushing the first mile, and at halfway I couldn't even see him, but he was right behind us. He was basically taking a breather at the back—he was waiting. And when he took the turn, he just unleashed it, so experience matters a lot on this course."
Lagat, while disappointed he couldn't pull out the win, was happy to walk away with his first American road record. He becomes the first American to simultaneously hold the U.S. 5000m track and 5K road records.
"I won't really cry too much about it," a laughing Lagat said about getting second to Gebremeskel. "Dejen is a great runner. Twenty one days ago I beat him in the 3000m in Sopot and I knew he wasn't going to rest until he beat me in this race. He's a strong runner. And, well, I got the record. That's another consolation. If I had won today it'd be great. If I won and got the record, that would be a double win for me. But I did not do that, I got second, people celebrated, I was happy with it. I'm glad it went the way it did because I'm going to be hungry for even more next year and the year after that. It was a lot of fun, really fun; the people lining up along the street to watch us, that was special. And I wanted to come and give them something to cheer about."
In the women's elite invitational, Great Britain's Julia Bleasdale made her second trip to Carlsbad a memorable one, outlasting the field to win with a time of in 15:06. Her performance placed the 2012 Olympian third on the UK all-time 5K list.
"I haven't raced in four months so it was good to get back on the racing scene," said Bleasdale, who, after finishing sixth at the Carlsbad event in 2012, went on to finish eighth in the London Olympics over 5000m and 10,000m. "I just wanted it to be a good, honest hard race. One mile in I was surprised it was that fast, it felt pretty easy. After two miles I wanted to give it a bit of a go and see what I could do because I knew that there were some big kickers in the field and knew that I would be out-kicked if they were still with me."
Kenya's Betsy Saina, who trains in Flagstaff, Ariz., finished a distant second in 15:22, followed by Ethiopia's Etalemhu Habtewold in third in 15:23. World 800m bronze medalist Brenda Martinez was the top American finisher in fourth, running 15:25—a 19-second improvement on her fifth-place finish here last year. She was followed by 2014 U.S. Cross Country Champion Amy Van Alstine who finished 5th in her Carlsbad debut in 15:30.
"It was awesome, having so many good women to race against and the community support was great with all of the spectators. The race felt really quick from the start but it was fun, a fast road 5k with a lot of girls in there and I was excited to compete with them," said Van Alstine. "I expected it to go out fast but it went a little faster than I thought and felt very quick so I was just trying to hold on the whole time. I'll do some more 5k specialty workouts over the next couple of weeks so I can prepare for the 5k on the track more, but I think this was a good sign for the me as my track PR is 15:36 and today I ran 15:30, which was the goal so I'm really happy."
Carlsbad 5000 annually attracts amateur, competitive and professional runners from around the world. The event is home to the current world 5K road records: 13:00, Sammy Kipketer (KEN), 2000 & 2001, and 14:46, Meseret Defar (ETH), 2006. For the first time in 2014, U.S. only prize money was added to the elite invitational and the races were broadcast live on the web.
The Carlsbad 5000 will celebrate its 30th anniversary on Sunday, March 29, 2015.
29th Carlsbad 5000 Results
Carlsbad, CA, Sunday, March 30, 2014
MEN
1. Dejen Gebremeskel, 24, ETH, 13:13, $5,000
2. Bernard Lagat, 39, USA, 13:19, $11,000*~
3. Augustine Choge, 27, KEN, 13:22, $2,000
4. Edwin Kipyego, 24, KEN, 13:26, $1,000
5. Diego Estrada, 24, USA, 13:31, $2,300*
6. Haron Lagat, 30, KEN, 13:39, $700
7. Tariku Bekele, 27, ETH, 13:45, $500
8. Mohamed Fadil, 32, MAR, 13:48, $400
9. Stephen Pifer, 29, USA, 13:56, $1,550*
10. Bobby Curtis, 29, USA, 13:59, $1,200*
11. Ben Bruce, 31, USA, 14:06, $750*
12. De Sean Turner, 25, USA, 14:10, $500*
*Includes U.S.-only prize money
~Includes $5,000 American record bonus
WOMEN
1. Julia Bleasdale, 32, GBR, 15:06, $5,000
2. Betsy Saina, 25, KEN, 15:22, $3,500
3. Etalemhu Habtewold, 23, ETH, 15:23, $2,000
4. Brenda Martinez, 26, USA, 15:25, $3,500*
5. Amy Van Alstine, 26, USA, 15:30, $2,300*
6. Gotytom Gebreslase, 19, ETH, 15:38, $700
7. Jordan Hasay, 22, USA, 15:41, $1,750*
8. Jen Rhines, 39, USA, 16:03, $1,400*
9. Gabe Grunewald, 27, USA, 16:08, $1,050*
10. Natasha LaBeaud, 26, CAN, 16:15, $200
11. Lindsey Scherf, 27, USA, 16:31, $500*
*Includes U.S.-only prize money