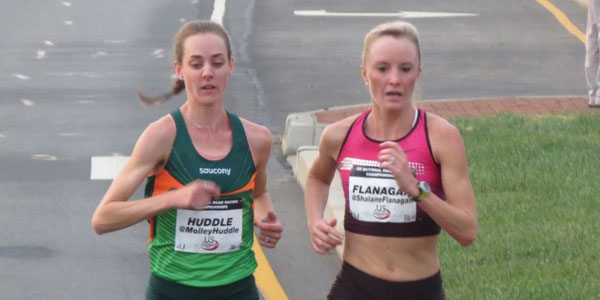 ALEXANDRIA, Va. (Nov. 17, 2013)  – Punishing early paces led to blistering fast times, as a world best and an American record were set Sunday morning in historic Alexandria, Virginia at the .US National Road Racing Championships.
The .US National Road Racing Championships are the eleventh and final stop on the USA Running Circuit.
In the women's race, Olympians Molly Huddle (Providence, R.I.) and Shalane Flanagan (Portland, Ore.) made it a two-person race from the opening mile, setting a quick early pace, which saw the two clear the field in the first mile, as they hit the split in 5:04, leading by 11 seconds. From there their lead expanded as Flanagan drove the pace, hitting the 5K split in 15:42 with Huddle hanging on and the rest of the field 40 seconds back.
Flanagan tried her best to break Huddle over the first 10K of the race, but Huddle, who previously won the USA 5K Championships, would not be denied. With 2K to go, Huddle put in a decisive move, gapping Flanagan by a couple strides. Huddle continued to push over the final mile of the race, building on her lead and ultimately crossing the finish line victoriously in a new world best and American record time of 37:50. Flanagan hung on for second place, finishing in 37:58.
Behind the two front runners, Laura Thweatt (Boulder, Colo.) ran perhaps the best race of her young career, as she upended a handful of other notable contenders to finish third in 39:15. Thweatt broke away from Olympian Kim Conley (West Sacramento, Calif.) around the five-mile mark and never looked back. Conley ran well, finishing fourth overall in 39:29, while Kellyn Johnson (Flagstaff, Ariz.) rounded out the top five with a 39:48 effort.
Sara Hall (Flagstaff, Ariz.) finished sixth in 39:54, while USARC veteran standouts Brianne Nelson (Golden, Colo.), Annie Bersagel (Oslo, Norway) and Meghan Peyton (Richfield, Minn.) finished 7-8-9 in 40:12, 40:27 and 40:32. Katie Matthews (Boston, Mass.) finished tenth overall in 40:33.
Along with Huddle's race victory, her triple point win gave her 45 additional points in the USARC standings, propelling her to a first place finish. With 60 total points, Huddle surpassed both Mattie Suver (Colorado Springs, Colo.) and Janet Bawcom (Rome, Ga.) for the series win, while Flanagan's runner-up effort moved her in to second overall with 51 points. Suver finished third with 47 points, Bawcom fourth with 45 points, while Brianne Nelson rounded out the top five with 40 points.
On the men's side, Aaron Braun (Ft. Collins, Colo.) set the tone early, grabbing the lead, something he would not relinquish the entire 12K distance. Braun finished second at the USA 5K Championships this fall, desperately wanting to win the .US National Road Racing Championships Sunday morning and claim his first U.S. title.
Braun's early pace saw a group of a dozen other men follow, passing through the mile in 4:44, then through the 5K in 14:29. The quick early pace took a toll on many runners however, as Braun continued to push and the pack slowly dwindled to a core group of four.
Passing the 10K checkpoint in 28:48, Braun's lead held at three seconds, with Shadrack Biwott (Sacramento, Calif.), Tyler Pennel (Blowing Rock, N.C.) and Christopher Landry (Ann Arbor, Mich.) still within striking distance. Braun's early tempo laid waste to the rest of the field over the final 2K, as he pulled away stride by stride, cruising home to a dominating win in 34:28. Braun's mark was two seconds off the American record of 34:26 set by Steve Spence in 1989.
Biwott kicked hard, finishing slightly ahead of Pennel for second in 34:35. Pennel finished third in 34:37, while Landry and Elliot Krause finished fourth and fifth in 34:30 and 34:43.
Pre-race USARC standings leader Matt Tegenkamp (Portland, Ore.) finished eighth overall in 34:50, finishing behind the top five, Timothy Ritchie (Worcester, Mass.) in sixth in 34:46 and Matthew Llano (Flagstaff, Ariz.) in seventh in 34:49. Josphat Boit (Mammoth Lakes, Calif.) finished his 2013 racing season well with a ninth place finish in 35:03, while Joe Moore (Minneapolis, Minn.) rounded out the top ten with a 35:08 mark.
Biwott's runner-up effort allowed him to surpass Tegenkamp in the overall USARC standings, winning his first USARC title with 88 points. Tegenkamp finishes second with 69 points, while Boit's ninth place showing gives him a third place total of 56 points. Ritchie and Landry round out the top five with 47 and 46 points.
In the master's competition, Bryan Glass (Springfield, Ill.) won the men's race handily, setting a quick pace early and never looking back. Glass put over 30 seconds on the rest of the competition by 10K and won going home in 38:29. Edmund Burke (Alexandria, D.C.) finished a strong second in 39:56, while Steve Kartalia (Baltimore, Md.) finished third in 40:42.
On the women's side, local master's standout Perry Shoemaker (Vienna, Va.) put on a show, winning the race by over two minutes in 44:17. The 42-year old averaged under six minutes a mile, winning the national title. Allie Bigelow (Durham, N.C.) placed second overall in 46:27, while Darcy Strouse (Baltimore, Md.) finished third in 47:43.