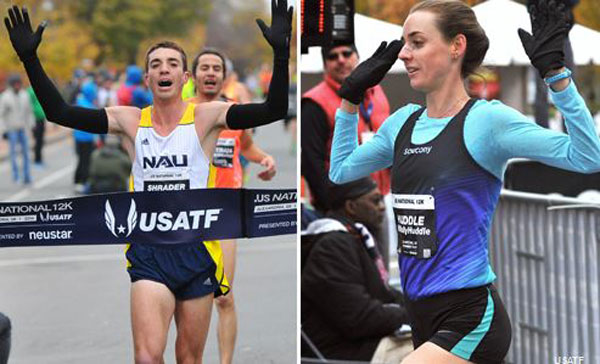 INDIANAPOLIS – Nov. 16, 2014 – A furious early pace by Olympian Molly Huddle split the pack early, while a tenacious finish by Brian Shrader put a gap on the field late, but the end result was the same, as both took home top prize Sunday morning at the .US National 12K in Alexandria, Virginia.
An opening first mile in 5:09 gave Huddle a clear edge early, as the U.S. 5,000m record holder on the track showed her speed from a long racing season was still sharp. From the gun, Huddle strung out the pack and by the first mile the lead group was a mere seven athletes.
By the time Huddle hit the second mile split, the pack found itself a group of five, as Providence College standout Emily Sisson, Olympian Kim Conley, Sara Hall and Emily Infeld stayed with the pace. Mile by mile Huddle continued to run even splits and by the half way turnaround, she cleared the field and put over ten seconds on then second place runner Hall.
Over the final 5K of Sunday's race, Huddle showed why she's one of the best runners in the world, keeping relaxed form and eyes forward. The early pace didn't slow Huddle and in the final strides before hitting the finish tape, she flashed a smile, taking home her second consecutive .US National 12K title in 38:07.
Behind Huddle, Sisson ran a tremendous race, pulling away from Conley and Hall with two miles to go and never looking back. Sisson crossed the finish in 38:20, well behind Huddle but well ahead of Conley, who placed third in 38:41. Hall settled for fourth after trying desperately to hang with Huddle early on, crossing the finish in 38:47.
Huddle's victory also allowed her to leapfrog Hall atop of the USA Running Circuit overall standings. Similar to 2013, Huddle's win clinched her the title, finishing the USARC season with four wins and 75 total points, 14 points ahead of Hall's second place tally. Brianne Nelson, who finished ninth overall in Sunday's race, concluded her season third place overall with 49 points.
"I'm really happy with the way things went today," Huddle said. "I knew it would be tough to get a record today because I was running solo but I was excited to repeat my titles. It's been a great year. Long but great."
Young talent dominated the rest of the top eight in the final women's results. First year pro Elaina Balouris finished fifth place overall in 39:02, edging out Infeld, who finished sixth in 39:12. Balouris' teammate Juliet Bottorff ran tough through the finish with a seventh place effort in 39:28, while OTC Elite's Alexi Pappas came home in eighth in 39:49. Nelson and Kellyn Johnson Taylor rounded out the top ten in 39:50 and 39:53 respectively.
In the men's race, defending champion Aaron Braun did much of the pacing work throughout the race. Braun hit the first mile marker in 4:42, pulling along a lead pack of nearly 15 athletes. The relaxed early pace allowed the group to stay together for the first four miles of the race, before Braun's consistency up front began to take its toll.
The leaders whittled down to a pack of seven with less than a mile and a half to go. Braun continued to lead, with experienced veterans Girma Mecheso and Diego Estrada trailing closely behind. A core pack of Brian Shrader, Parker Stinson, Jared Ward and Andrew Colley, all current or recent collegiate runners, hung on, seemingly waiting to make their move.
With a mile to go, Stinson and Shrader moved to the front, pushing the pace and breaking apart the pack. Braun and Estrada responded, moving past the two after a quarter mile, with Braun starting to put a small gap between he and the chasers with a half mile to go.
Into the final homestretch, it looked as though Braun may hold on for a repeat victory, until Shrader put in one final surge to overtake Braun and Estrada, running away to a one second victory in 34:10, a new American record. The current Northern Arizona University standout raised his arms high as he crossed the finish, his first U.S. title in the books. Estrada finished a stride back in 34:11, while Braun finished third in 34:15.
"I'm pretty speechless," Shrader said. "I just tried to stay in contention with guys like Diego and Aaron. I think I just got lucky at the end. I have indoor eligibility left (at Northern Arizona), so that's what is next for me. I've never even made NCAA Outdoors before, so I'm still kind of in shock about today. I haven't won a race in a while. Never run a 10K or a 12K before."
Ward hung on over the final stages of the race to finish fourth overall in 34:15, while Mecheso and Stinson rounded out the top six in 34:16 and 34:18 respectively. Colley finished seventh in 34:24, while USA Running Circuit overall winner Christo Landry finished eighth in 34:41. Jim Spisak and Scott Bauhs finished ninth and tenth overall.
For Landry, coming off the Chicago Marathon, Sunday's race was in many ways more of a victory lap. After winning three separate U.S. titles on the road this season, along with a pair of runner-up finishes, Landry took home the $25,000 USA Running Circuit overall series win with his 82 total points. Estrada's runner-up finish Sunday put him in second place in the final standings with 51 points, while USA Marathon champion Tyler Pennel placed third with 49 points.