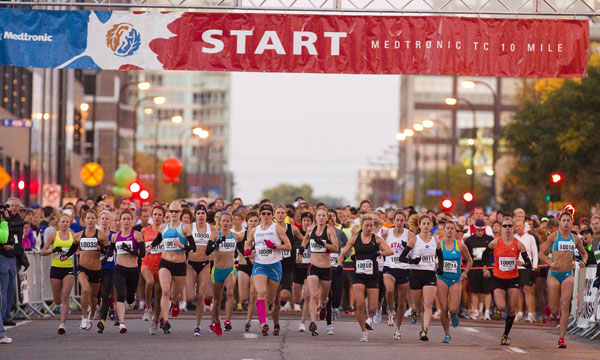 ST. PAUL, Minn. – Twin Cities In Motion, organizers of the Medtronic Twin Cities Marathon and a host of running events in Minneapolis and St. Paul, is enhancing its partnership with Twin Cities-based Team USA Minnesota, the elite long distance running training center that has developed 21 national champions and sent dozens of athletes to international competitions, including the Olympic Games.
A sponsor of Team USA Minnesota since its inception in 2001, Twin Cities In Motion will increase its support of the program to $30,000 annually, making the nonprofit one of Team USA Minnesota's two major sponsors.
Twin Cities In Motion's enhanced sponsorship of Team USA Minnesota will help the program provide support for its coach, Dennis Barker, who became full-time in January after coaching on a part-time basis since 2001 given his previous responsibilities as cross country and track coach at Augsburg College. The increased funding will also assist in covering a portion of the stipends and travel expenses for the team's elite roster.
"We're pleased to increase our support of Team USA Minnesota," Twin Cities In Motion executive director Virginia Brophy Achman said. "We're proud of our long-term relationship with the program, and we're honored to have been a part of their success. They not only develop successful runners competing at the highest levels of the sport, they also cultivate role models – for kids by personifying active lives and for adults through their dedication and achievements."
Team USA Minnesota's distance runners compete on the roads, the track and in cross country at national and international events, including championships and on world teams. The roster includes both men and women who race at distances from the 800 meters up through the marathon and currently includes four national champions.
"We are so pleased that Twin Cities In Motion has stepped up to become a major sponsor of our team," said Patricia Goodwin, founder and president of Team USA Minnesota. "We have certainly valued our partnership over the years of our existence and appreciate the confidence that TCM has in our program. This new level of support provides us with additional stability given the expansion of our training center this year with a full-time coach."
Team USA Minnesota is based in the Twin Cities of Minneapolis/St. Paul. Founded in 2001, the purpose of the training center is to improve the competitiveness of post-collegiate American distance running and to develop Olympians.