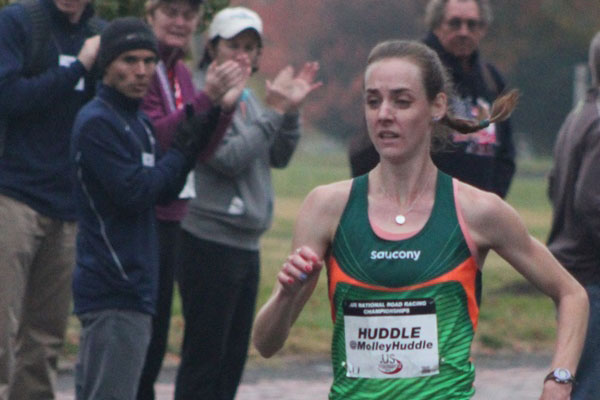 BOSTON – The 2014 B.A.A. 5K was one for the ages, as thousands of runners took to the streets of Boston in celebration. Ethiopia's Dejen Gebremeskel set a new men's event record of 13 minutes, 26 seconds, while Providence, Rhode Island's Molly Huddle came from behind to win the women's race in 15:12. In total, more than 8,600 runners finished the race, held two days prior to the 118th Boston Marathon.
Under crystal clear skies, runners from around the nation and world came to Boston Common ready to race 3.1 miles through Boston's picturesque Back Bay neighborhood.
Moments after the starting horn sounded, Gebremeskel, 24, bolted into the lead, taking control of the pace early on. As reigning champion, Gebremeskel was determined to claim yet another B.A.A. 5K crown.
Splitting one mile in 4:23, Gebremeskel was joined by Daniel Salel (KEN), Stephen Sambu (KEN), Lani Rutto (KEN), and Yarmouth, Maine native Ben True. The pack would remain together through mile two (8:49), crossing the Boston Marathon finish line on Boylston Street as one.
Not until the final straight would a champion be determined. Gebremeskel, 2012 Olympic silver medalist at 5000 meters, turned to another gear on Charles Street, one that was only matched by two-time B.A.A. 5K champion True.
In a photo finish, it was Gebremeskel ahead of True by a hair. Both finished with a new event record time of 13:26.
"I'm really glad, this Boston Marathon," said Gebremeskel, who earned $7,500 (USD) for finishing first and a $5,000 (USD) bonus for establishing a new event record time. "The town is talking about the Boston Marathon. It is like the whole town: Monday, Tuesday, Wednesday, Sunday, Monday, even today. I like this. It is a really big race."
True gave credit to Gebremeskel, who simply had the better sprint today. With his win, Gebremeskel matches True as the winningest athletes in B.A.A. 5K history (two victories each).
"I tried to be the last one to make a move down the finishing stretch," said True. "I was just one step short."
Rounding out the top three was 2013 B.A.A. 10K champion Stephen Sambu in 13:27.
On the women's side, Huddle, a 2012 Olympian, powered her way through the second half of the race, going on to win in 15:12. Her time ties the previous event record, set by Werknesh Kidane (ETH) in 2012.
While 2013 B.A.A. 10K champion Mamitu Daska (ETH) took the pace out hard early on, hitting the mile in 4:50, Huddle sat back and waited patiently.
Finding herself in sixth place when crossing the Boston Marathon finish line with less than a mile to go, Huddle began to slowly gain on the field. Soon thereafter, Huddle drew extra motivation from the tragic events of April 15, 2013.
"I felt like everyone was cheering for us. With a half mile to go I thought it would be great for an American to win this race and so I think it gave me a little extra boost," she said.
Using this inspiration, Huddle moved into third, then second, and found herself out in front with the finish in sight. Breaking the tape in 15:12, Huddle was overjoyed.
"Once the crowds were cheering and I was building momentum, I was able to pass the girls," said Huddle. "People were really rooting for the Americans out there."
Daska placed second in 15:14, while Sentayehu Ejigu (ETH) took third in 15:16.
The B.A.A. 5K is the first race of the B.A.A. Distance Medley, a three race series that includes the B.A.A. 5K, B.A.A. 10K, and B.A.A. Half Marathon, presented by Dana-Farber Cancer Institute and the Jimmy Fund.
Also included in Saturday's festivities was Boston Mayor Marty Walsh, who addressed the crowd moments before the race started. The 3rd U.S. Infantry Regiment (The Old Guard) provided participants and spectators with traditional colonial music, celebrating Patriots' Day weekend in style.