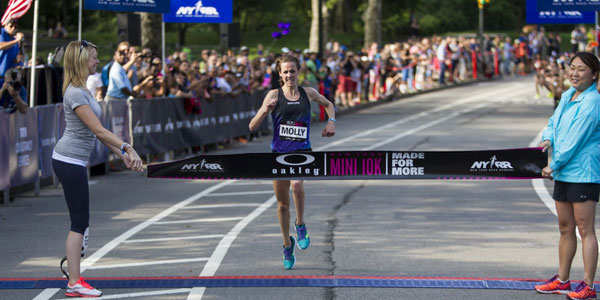 Blue skies, a star-studded field, and the empowering spirit of the world's original all-women's road race gave Molly Huddle all the motivation she needed to set a new American all-women's 10K road record at the Oakley New York Mini 10K  in Central Park.
Huddle, 29, a 2012 U.S. Olympian who holds the national record at 5000 meters, became the first American champion of the Mini since the 2004 event was won by Deena Kastor, now 41, who won the Masters (40+) title in today's race.
In the early miles, Huddle, who finished third in this year's NYC Half and holds the world road record for 12K, ran in a pack with last year's top three finishers: Mamitu Daska (Ethiopia), Linet Masai (Kenya), and Gemma Steel (Great Britain). They ran the first mile in 5:03, then went through the challenging Harlem Hills as the field strung out behind them. Daska and Huddle, running side by side, pressed the pace down the East Drive and made it a two-woman race by the four-mile mark. With about 1000 meters to go, Huddle made a move that Daska could not match.
Urged on by the crowd, Huddle sprinted home and crossed the line in 31 minutes, 37 seconds, breaking Mary Decker Slaney's national all-women's 10K record—which had stood for 30 years—by a single second..
"I knew if i stayed with [Daska and Masai] we'd be running close to the record, so I thought it would be a win-win: I might be able to kick it in for the win, and if I lost, I might still get the record," Huddle said afterward.
"That means so much to me," said Huddle about being the first American winner in a decade. "It was great to have Deena out there today. [The Mini] has that sense of empowerment, and the women who have won this race have gone on to have great careers, so if I can follow in their footsteps, I think I'm doing pretty well."
Daska hung on to finish second in 31:49. Steel took third—the same place she'd finished last year—in 32:11. Fourth place went to Masai, a two-time former Mini champion (2010 and 2011), in 32:16, and Boston Marathon runner-up Buzunesh Deba of the Bronx took fifth in 32:20.
At the post-race festival in Central Park's Mineral Springs, Huddle and other pros like Amy Hastings, Lauren Fleshman and Desiree Linden mingled with the nearly 6,000 women who came out to prove they are "made for more."
Said Oakley Global Sports Marketing Manager Greg Welch, "What strikes me most is you see women of all ages, abilities, shapes, and sizes coming together to show that everyone can come out, run, and be active."
The medals, the carnations and even the bagels that finishers received were all pink, in celebration of the exclusively female field. It was the 43rd running of the Mini, which Fred Lebow launched in 1972, the same year that Title IX became law and created unprecedented opportunities for generations of female athletes. The Mini has been the model for many other all-women's races, and the kinds of performances and participation that characterized today's race continue to make the Oakley New York Mini 10K one of the most prestigious events of its kind.
43rd New York Mini 10K
New York, NY, Saturday, June 14, 2014
1 Molly Huddle                29 SAUC RI           31:37
2 Mamitu Daska                30 NIKE ETH          31:49
3 Gemma Steel                 28 NIKE GBR          32:11
4 Linet Masai                 24 NIKE KEN          32:16
5 Buzunesh Deba               26 NIKE ETH          32:20