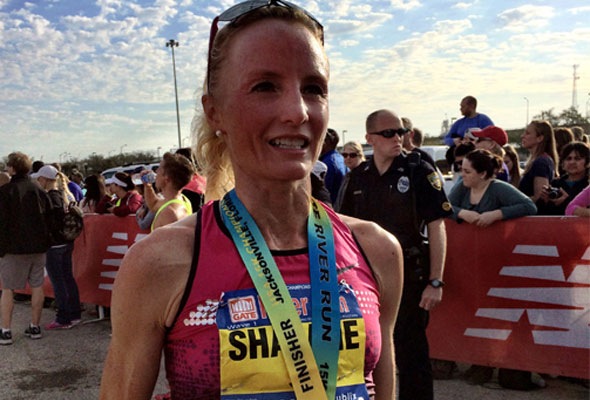 Shalane Flanagan took off on a record-setting pace early, while defending champion Ben True ran stride-for-stride with USA Cross Country champion Chris Derrick, Saturday morning at the USA 15K Championships, hosted again by the Gate River Run in Jacksonville.
The USA 15K Championships are the third stop on the USA Running Circuit, which concludes this fall with the .US National Road Racing Championships. The top ten finishers at each race on the circuit qualify to compete in the .US National Road Racing Championships.
A first mile of 4:52 gave Flanagan (right, courtesy USATF) an astonishing 13 second lead over fellow 2012 Olympian Janet Bawcom, a lead she would never relinquish. Flanagan set the pace, cruising mile after mile, nearly all of them between 4:59-5:04. Through the first 5K split, Flanagan hit 15:29, only a second off world record pace and well under U.S. record pace.
Passing through the 10K split in 31:09, Flanagan owned a minute and twelve second lead over second place Bawcom, who was well clear of the chase pack herself. As Flanagan hit the Hart Bridge, her pace slowed every so slightly, but the Portland-based champion ran a final mile of 4:59 and cruised to a new American record of 47 minutes, 3 seconds. Flanagan's mark took off 12 seconds from Deena Kastor's record of 47:15, set in 2003.
Bawcom ran a strong race, mostly by herself, finishing second overall in 49:25, nearly twenty seconds faster than her winning mark in 2013. USA Cross Country champion Amy Van Alstine continued her impressive 2014 campaign with a third place effort of 49:50, adding to her overall USARC standings lead.
Alexi Pappas and Lindsey Scherf finished fourth and fifth respectively, as Pappas finished in 50:07 and Scherf in 50:31. Rounding out the top ten were Katie Dicamillo, Mattie Suver, Meghan Peyton, Alisha Williams and Kellyn Johnson.
While Flanagan dominated the women's race from start to finish, it wasn't as clear cut on the men's side. A strong early pack, led by 2013 national runner-up Bobby Curtis, passed through the first mile in 4:45 and the second in 9:30. As Matt Llano and Chris Derrick took the lead, the pace started to quicken, spreading out the field a bit.
Through the 5K mark, Derrick strung out the pack further, as he, True and Tim Ritchie took over pacing duties. The core pack passed through the halfway point in 21:50, with a number of athletes still in contention for top five finishes.
At mile six, the trio of Derrick, True and Ritchie clearly established themselves as top three, gapping the rest of the field by 100 meters after running a 4:36 mile. The trio passed through the 10K mark in 28:52.
Just before the eight mile split, Derrick and True put in another surge, breaking Ritchie, leaving the two challengers sizing each other up as they crossed the Hart Bridge and made their way to the final mile. Just when Derrick started to look like he might pull away, True shifted into another gear, putting a ten meter gap on Derrick almost immediately.
Sprinting down the final quarter mile, True continued to widen his lead. Running a four flat final mile, True crossed the finish line arms raised, earning the sweet victory in 43:03.  Derrick held strong and charged home to a runner-up finish in 43:16, while Ritchie finished third overall in 43:25.
Christo Landry edged Llano 43:59-44:02, as both athletes earned some big points in the USARC standings, while Chris Barnicle, Jon Grey, Sean Quigley, Stephen Pifer and Jeremy Freed finished sixth through tenth.
Gate River Run: USA 15K Championships
Jacksonville, FL, Saturday, March 15, 2014
Men
1 Benjamin True, 26                              43:04
2 Christopher Derrick, 23, Portland, OR          43:16
3 Tim Ritchie, 26, Brighton, MA                  43:24
4 Christo Landry, 27, Ann Arbor, MI              43:59
5 Matt Llano, 25, Flagstaff, AZ                  44:02
6 Chris Barnicle, 26, Albuquerque, N             44:27
7 Jon Grey, 26, Minneapolis, MN                  44:38
8 Sean Quigley, 29, Lafayette, CO                44:43
9 Jeremy Freed, 26, Longmont, CO                 44:52
10 Stephen Pifer, 29, Jacksonville, FL           44:51
Women
1 Shalane Flanagan – Portland, OR 32 47:03
2 Janet Bawcom – Flagstaff, AZ 35 49:24
3 Amy Van Alstine – Flagstaff, AZ 26 49:49
4 Alexi Pappas – Boston, MA 23  50:06
5 Lindsey Scherf – Chapel Hill, NC 27 50:31
6 Katie Dicamillo – Providence, RI 27 50:38
7 Mattie Suver – Colorado Springs, CO 26 50:40
8 Meghan Peyton – Richfield, MN 28 50:42
9 Alisha Williams – Colorado Springs, CO 32 50:43
10 Kellyn Johnson – Flagstaff, AZ 27 50:44