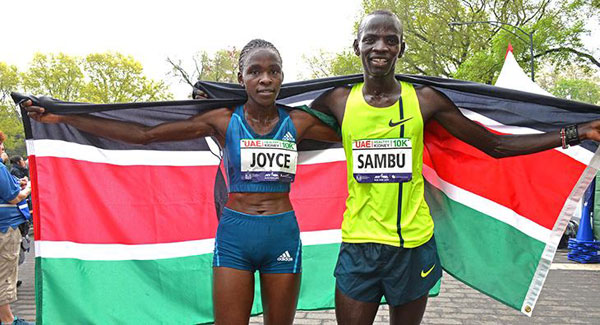 NEW YORK (May 10, 2014) – Stephen Sambu called it the best performance of his life. After following two-time UAE Healthy Kidney 10K champion Leonard Patrick Komon for two miles, Sambu caught his Kenyan countryman at the top of Harlem Hill and passed him on the way down. In the lead with less than 300 meters to go, Sambu took a wrong turn but quickly got back on course to cross the line in a winning time of 27 minutes, 39 seconds. Komon followed in 28:18, and 2012 champion Daniele Meucci of Italy closed fast to take third in 28:19.
Joyce Chepkirui made it a Kenyan sweep of the titles, winning the inaugural professional women's race in 31:17, the fastest women's 10K time ever run at this event. She ran in a pack of four until the 5K point, then pulled away from 2013 Oakley New York Mini champion Mamitu Daska of Ethiopia (second, 31:41) and Mary Wacera of Kenya (third, 31:52). Chepkirui, like Sambu, will take home a $25,000 winner's purse—the largest at any 10K in the world and at any non-marathon road race in the United States.
Komon holds the world road 10K record at 26:44, and he hadn't lost a 10K since February of 2011; this was only the second loss among his 12 career 10K races. Sambu, a University of Arizona graduate who's called "the best runner who never won an NCAA title" by track insiders, had finished third here last year and also in this year's NYC Half. He now owns a very prestigious New York City title.
Nearly 8,000 runners completed the slog, with the pros up front delivering some of the fastest times ever seen in Central Park despite the swampy conditions.
For full results, visit nyrr.org
2014 UAE Healthy Kidney 10K
New York, NY, Saturday, May 10, 2014
Men
1 Stephen Sambu               25      KEN          27:39
2 Leonard Patrick Komon       26 NIKE KEN          28:17
3 Daniele Meucci              28 DIAD ITA          28:19
4 Collis Birmingham           29 NIKE AUS          28:22
5 Mourad Marofit              32      MAR          28:50
6 Kevin Kochei                24      KEN          28:52
7 Yonas Mebrahtu              26 WSX  ERI          29:00
8 Ayele Megersa Feisa         26 WSX  ETH          29:29
Women
1 Joyce Chepkirui             25 ADID KEN          31:17
2 Mamitu Daska                30 NIKE ETH          31:40
3 Mary Wacera                 25 NIKE KEN          31:52
4 Gelete Burka                28 NIKE ETH          32:01
5 Risper Gesabwa              25      KEN          32:19
6 Aliphine Tuliamuk-Bolton    25      KEN          32:37
7 Rkia El Moukim              26      MAR          33:37
8 bertukan germame            22      NY           33:58