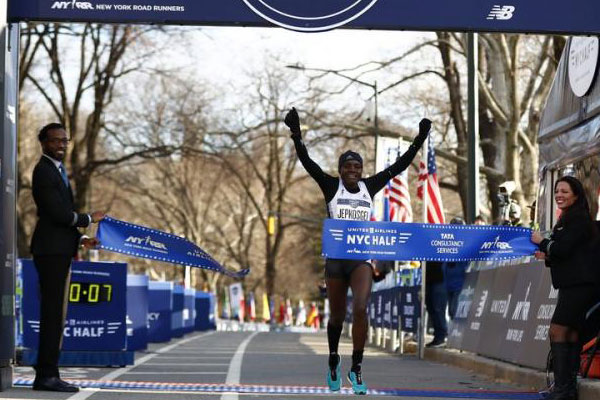 New York, February 18, 2020 – All four defending champions – Joyciline Jepkosgei, Tatyana McFadden, Belay Tilahun, and Daniel Romanchuk – will return for the 2020 United Airlines NYC Half, which will feature a world-class professional athlete field that includes 14 Olympians and eight Paralympians leading 25,000 runners from Prospect Park in Brooklyn to Central Park in Manhattan.
Defending Champions Return for United Airlines NYC Half 2020
The 15th running of the event will take place on Sunday, March 15, leading the athletes on a 13.1-mile tour through neighborhoods in Brooklyn and Manhattan and past iconic New York City landmarks, including Grand Army Plaza, the United Nations, Grand Central Terminal, and Times Square. Coverage of the race, including features, interviews, and pro race look-ins will be available on WABC-TV, Channel 7 in the New York area from 6:00 a.m. to 10:00 a.m. ET on race day, while a pro race livestream will begin at 7:00 a.m. ET on multiple ABC7 and NYRR social media channels.
"This year's United Airlines NYC Half will feature all four defending champions leading an exciting array of international stars and rising American talent," said Michael Capiraso, president and CEO of NYRR. "Olympians and Paralympians from 18 different countries will join our defending champions in a race that will be followed all around the world, as New York again becomes the focal point of the global running community this March."
NYC Half 2020 Women's Open Division
Jepkosgei, who won the United Airlines NYC Half and TCS New York City Marathon last year in her first two trips to the United States, will look to defend her event title against a stacked international field.
At the 2019 United Airlines NYC Half, during her first-ever trip to the United States, Jepkosgei won on a solo run to the finish in a time of 1:10:07. The world championships silver medalist in the distance became the sixth woman from Kenya to win the United Airlines NYC Half, and the first to do so since 2014. She then made her marathon debut at the 2019 TCS New York City Marathon and finished in first place with a time of 2:22:38. She was just seven seconds off the course record and registered the second-fastest time in the women's open's division in New York City Marathon history. The time was also the fastest ever by a woman making her New York City Marathon debut. Jepkosgei is the world-record holder in the half marathon, having run a 1:04:51 to win the 2017 Valencia Half-Marathon in Spain.
"In my first two trips to the U.S. – for the United Airlines NYC Half and TCS New York City Marathon last year – I was so excited to cross the finish line first in Central Park to win both races," Jepkosgei said. "I cannot wait to return to New York to defend my NYC Half title."
Challenging Jepkosgei will be two-time NYC Half champion Caroline Rotich, 2018 NYC Half champion Buze Diriba and last year's runner-up, Mary Ngugi. Olympians Milly Clark, Susan Krumins, Steph Twell, and Natasha Wodak will join them in the field, along with the United States' Jess Tonn, who finished as the runner-up at the 2019 USATF 5K Championships and will be making her half-marathon debut.
NYC Half 2020 Women's Wheelchair Division
McFadden will aim to kick off her Paralympic year by racing for her third United Airlines NYC Half title. The five-time TCS New York City Marathon champion and 17-time Paralympic medalist won this race in convincing fashion last year, finishing nine seconds ahead of Switzerland's Manuela Schär.
"There are so many great things in store for 2020 and I'm excited to get going with the United Airlines NYC Half," McFadden said. "Racing through Times Square is one of the highlights of my season every year and the spectators and runners in New York never disappoint."
Schär, the event's 2018 champion, will be back to challenge McFadden and was the sport's most dominant athlete last year. In 2019, the three-time Paralympic medalist and six-time European champion won her third consecutive TCS New York City Marathon title, in addition to winning the Berlin, Chicago, Tokyo, Boston, and London marathons.
The event's 2017 champion, the United States' Susannah Scaroni, will also line up in March after having a stellar 2019 campaign. Last year, she placed third at both the United Airlines NYC Half and TCS New York City Marathon, set a new world-best 10K mark of 22:22 en route to defending her NYRR New York Mini 10K title, and set an American best in the marathon of 1:30:42 to win the Grandma's Marathon.
NYC Half 2020 Men's Open Division
Tilahun won his New York City racing debut at the 2019 United Airlines NYC Half, taking the tape in 1:02:10 after overtaking Eritrea's Daniel Mesfun in the home stretch. Tilahun started his 2020 season with a 2:13:32 marathon debut in Houston in January.
"Last year I had one of the best races of my life at the United Airlines NYC Half and was able to surprise people with my victory," Tilahun said. "I'm looking forward to coming back, this time as a top contender."
Joining him in the race will be 2016 champion Stephen Sambu, and Olympians Callum Hawkins, Juan Luis Barrios, Shadrack Kipchirchir, and Hassan Mead. Mead and Kipchirchir, U.S. Olympians in the 5000 and 10,000 meters, respectively, will both be making their half-marathon debuts.
NYC Half 2020 Men's Wheelchair Division
Romanchuk will enter as the one to beat in the men's wheelchair division, coming off a 2019 campaign that included victories at the United Airlines NYC Half, TCS New York City Marathon, Boston Marathon, and Virgin Money London Marathon. He also broke the course record at the AJC Peachtree Road Race and qualified for the Tokyo 2020 Paralympics.
"I absolutely love racing the hills of New York, especially the NYC Half course with its start and finish both in beautiful parks," Romanchuk said. "I'm excited to be able to return as defending champion for the first time and look forward to a competitive race among a great field of athletes."
Facing Romanchuk this year will be four-time U.S. Paralympian and 2014 NYC Half champion Josh George and Great Britain's 2017 TCS New York City Marathon runner-up Johnboy Smith.
Here are the complete professional athlete fields for the 2020 United Airlines NYC Half:
The United Airlines NYC Half is one of seven races – from the mile to the marathon – organized by New York Road Runners, that features invited professional athlete fields and makes up the NYRR Pro Racing Series. The NYRR Pro Racing Series also includes the NYRR Wanamaker Mile, UAE Healthy Kidney 10K, NYRR New York Mini 10K, New Balance 5th Avenue Mile, USATF 5K Championships, and the TCS New York City Marathon.
In addition to the professional athletes and 25,000 runners covering 13.1 miles, the 2020 United Airlines NYC Half will feature 1,000 youth runners in the Rising New York Road Runners at the United Airlines NYC Half on a 1500-meter out-and-back course on Seventh Avenue. Rising New York Road Runners is NYRR's free, year-round youth program and events platform that serves 250,000 youth across the country annually.
Those not running the race in person can take the race to their own neighborhood and run it virtually. The NYRR NYC Half–Virtual 13.1M allows runners to race anywhere in the world on their own time between March 12 and 15. One thou­sand of the runners who complete the virtual race will each receive one guaranteed, non-complimentary entry to the 2021 United Airlines NYC Half and a finisher medal.