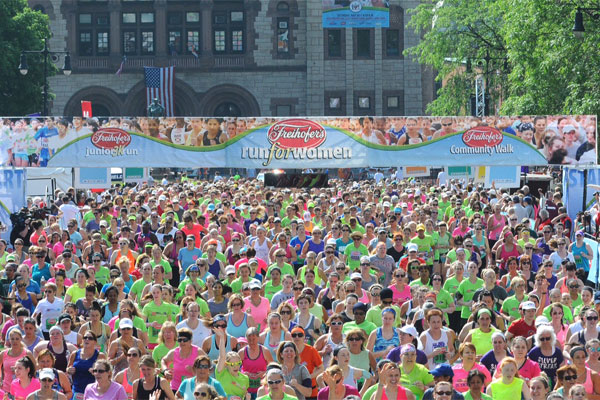 ALBANY, NY (May 30, 2015) – Perfect running weather and a new course greeted a field of 3,807 runners for this morning's 37th annual Freihofer's Run for Women. The course re-design was made necessary by a beautification project of the stunning Empire State Plaza, a change that will remain in place for the race through 2016.
Conjecture about the new geography was matched by speculation about the ultimate winner of the $10,000 first place prize. On paper, the new course appeared faster; a less steep incline in the opening mile, fewer turns and more shade. Would this play into the hands of speedsters such as two-time champion and course record holder (15:12) Emily Chebet (KEN) and Buze Diriba (ETH)? Or would it favor strength runners such a Burundian Olympic marathoner Diane Nukuri and Ethiopia's Meskerem Assefa? As the gun fired at 9:30 a.m. to set the field underway, there were even more questions than usual.
The start of the 2015 Freihofer's Run for Women in Albany, NY. The 37th edition of the event featured 3,807 runners and a new course starting in front of City Hall and adjacent to the State Capitol building. Photo by Steve Jacobs. Click image for high resolution.
The opening mile answered very few. Possibly it was trepidation about the new course; possibly it was a natural hesitation among the favorites to be a rabbit for the field. Whatever the reason, the opening kilometer was passed in a pedestrian 3:21 with the first mile reached in a comfortable 5:20. "Even if we'd come off a 100-mile training week, we're all capable of running that pace," commented Nukuri. "We were all just watching each other."
In fact, in the early going it was Nukuri who featured most often at the forefront of the large lead group of approximately 25 women. Cynthia Limo (KEN), who had logged a personal 5K best of 15:12 in Boston in April, was alongside her; but, in reality, there was no leader. This was a congested group of the world's best women, all "just watching each other," and almost all capable of taking this crown.
Through the shaded roadways of Washington Park the field hung together, although it was inevitable that the dawdling pace should begin to become less so. A second kilometer of 3:14 (6:35 at 2kms) and a third of the same duration brought the field to 3kms in a time of 9:49 and two miles in 10:29. The second mile was, therefore, 11 seconds faster than the first; still not blistering, but evidence that things were beginning to shake loose.
The clearest evidence of that was the trimming of the pack from 20 or more to about 12. Nukuri Johnson and Limo were still prominent, but Diriba was also making her presence felt, as was Assefa, Kenya's Isabella Ochichi, the Olympic Games 5000m silver medalist from 2004, and a clutch of others, including Americans Serena Burla, Lindsay Flanagan and Megan Hogan, the latter a native of nearby Ballston Spa, N.Y. Traditionally, at this point in the Freihofer's race, the leading two or three contenders are clear. In this 37th edition, all that was clear was that somebody needed to make a move.
It came leaving the park and making the right hand turn back onto Washington Avenue for the three-quarter mile stretch to the finish line. Limo injected a surge that was immediately covered by Chebet and Diriba and, quickly, the crowd that had been hopeful contenders was reduced to spectators. With the expanse of Washington Avenue and its progressive downhill before them, Limo, Chebet and Diriba raced shoulder to shoulder, the $10,000 winner's check providing extra incentive, as if it were needed. Evidently, the roars of the crowd were all it took for Chebet. With less than 400m remaining, the two-time winner put it into over-drive and secured her place among the exclusive group of three-time Freihofer's winners. (Lynn Jennings, Marla Runyan and Benita Willis are the others). The chasers fought hard to deny Chebet; but, at the line, her time of 15:38 gave her three seconds in hand over Limo (15:41) and a further four seconds over Diriba (15:45). Nukuri Johnson, the early leader, placed seventh in 16:07, with Burla being first American (eighth overall in 16:11) and local-woman Hogan placing 11th in 16:16.
"The course was very good," asserted Chebet smiling. What else was there to say?
Burla added: "I just wanted to mix it up and put my best effort out there. We went out slower than usual, but that was fine with me." Remarkably, in 2011, a tumor on Burla's hamstring required the removal of a major part of that muscle, leading to conjecture as to whether she would ever run again.
The master's race for women over 40 was subject to almost as much speculation as the open race. Melody Fairchild, the 2014 champion, was back to defend her title; but, Russia's Lyubov Denisova, dominant on the roads in recent seasons, was also in the field and poised to make her mark. In the end, it was a one-woman race, as Fairchild romped home in a time of 17:34, taking 21st place overall, her closest rival being 51-year-old Marissa Sutera Strange, who placed 23rd in a time of 17:43.
"I've been training in a different way," explained Fairchild, so I'm glad I answered my own question as to whether I've been doing the right thing." The "different way" is with a focus on the Leadville Trail 100 Run, a 100-mile trail race in her home state of Colorado in which she will compete in August.
George Regan, event director since its inception, was ecstatic about the race, its outcome and the positive comments about the new course. "To have a three-time champion is magnificent," he enthused. "Emily is now officially one of the Freihofer's 'greats.' But it was just a great day overall. We had participants from 20 states and 22 countries. We had two defending champions in Emily Chebet and Melody Fairchild and we had a new course that everybody seemed to love. This was a great day for the Freihofer's Run for Women and a superb day for Albany."
Image Credit: SteveJacobsPhotography.com
37th Annual Freihofer's Run for Women 5K
Open
1 Emily Chebet (Kenya) 15:38 ($10,000)
2 Cynthia Limo (Kenya) 15:41 ($5,000)
3 Buze Diriba (Ethiopia) 15:45 ($3,000)
4 Isabella Ochichi (Kenya) 15:49 ($2,000)
5 Meskerem Assefa (Ethiopia) 15:55 ($1,000)
6 Amane Gobena (Ethiopia) 15:59 ($750)
7 Diana Nukuri Johnson (Burundi) 16:07 ($500)
8 Serena Burla (Stafford, VA) 16:11 ($300)
9 Lindsay Flanagan (Washington DC) 16:16 ($250)
10 Nezret Weldu (Eritrea) 16:16 ($200)
11 Megan Hogan (New York, NY) 16:18
12 Alissa McKaig, (Blowing Rock, NC) 16:29
13 Makida Abdella (Ethiopia) 16:30
14 Monicah Ngige (Kenya) 16:35
15 Ann Wanjiru (Kenya) 16:40
16 Hannah Davidson (Fayetteville, NY) 16:52
17 Andie Cozzarelli (Raleigh, NC) 16:55
18 Chrissie Ramsey (New Haven, CT) 17:14
19 Sheree Shea (San Diego, CA) 17:23
20 Salome Kosgei (Kenya) 17:27
Masters (Over 40)
1 Melody Fairchild (Boulder, Colo.) 17:34 $750
2 Christy Peterson (Chicago, Ill.) 17:48 ($500)
3. Lyubov Denisova (Russia) 17:52 $350
Over 50
1. Marisa Sutera Strange (Pleasant Valley, NY) 17:43