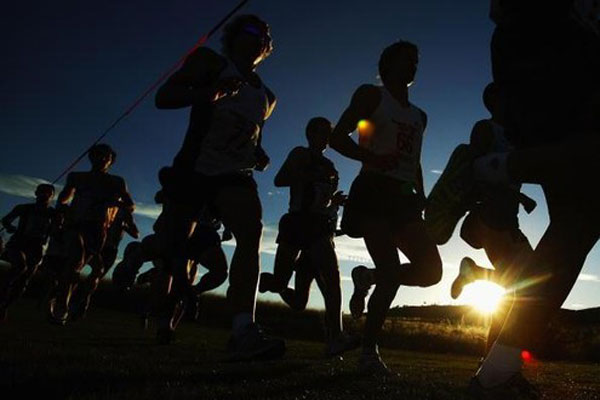 RICHMOND, Va. – Steve Taylor, cross country and track & field coach at the University of Richmond, had a vision. "About five years ago the idea came to mind that there was a need to create additional competitive and social opportunities for college students who enjoy running," said Taylor. "Given restrictions placed on college coaches with roster limits as well as the elimination of track & field programs at the college level, there was a need for action to increase opportunity. In January 2012, when the NCAA passed legislation that allowed NCAA DI athletes to accept prize money to cover actual and necessary expenses for participation in their individual sport over a full calendar year, I decided the timing was right and that we needed to make this happen."
What happened was the formation of a new non profit, the Collegiate Running Association. Founded by Taylor along with Jon Molz, assistant women's track & field coach at the University of Richmond, the Association was introduced to the public on Wednesday, November 20, 2013.
The Association currently has no paid staff; rather volunteers run the organization and include Taylor, Molz, Andrew Blanchard, Matthew Blanchard, Matt Hannay, and Thom Suddeth. Taylor, Molz and Hannay form the board of directors and there are two pending board members who will join officially after the New Year. Additionally, there is an advisory panel comprised of individuals at the collegiate level and those with extensive backgrounds in road racing, mountain running and trail running.
The depth of Taylor's commitment to sport is evident as he explains the ins and outs of the Association. "This sport has been my entire life. From the age of nine I've been involved in running and wanted to create something that provides opportunity, both competitive and social. To create something that gives college students the ability to win prize money to help with their college educational costs is a huge bonus. It was also important for the opportunities to be open to any college student whether they are undergraduate, graduate or postgraduate students at a NCAA, NAIA, junior college or community college levels.
"The approach was to keep it simple and inclusive," continued Taylor. "My goal is to see social and elite runners from all the diverse colleges across the U.S. come together in one place and race for a national championship that up until now has not been offered (collegiate road racing, mountain running and trail running). In addition, it has been a passion of mine to support the U.S. Mountain Running Team.
"Mountain and trail races have exploded in popularity the past few years. They are one of the fastest growing segments within running and yet there have been no championships specifically for college students. This (the Association), allows us to help introduce road racing, mountain running and trail running to a broad base of college runners," said Taylor.
The Association is an exciting addition to the trail and mountain running community and will certainly have a positive impact on both the junior and senior categories of the U.S. Mountain Running Team (USMRT) in terms of participation and interest.
"The US Mountain Running Team is very excited to see the launch of the new Collegiate Running Association," said Richard Bolt, USMRT leader. "Now in its tenth year, our junior program relies heavily on coordinating with college coaches to find elite young runners to compete in the World Mountain Running Championships.  With its support of mountain and trail running we look forward to working closely with the Collegiate Running Association to bring even more competitive opportunities to young runners looking to test their mettle at the international level."
The excitement extends beyond the trail and mountain running disciplines and is supported by coaches at the collegiate level, and also those who work with post-collegiates like Kevin Hanson, who heads up the Hansons-Brooks Distance Project in Michigan. "We are excited that the Collegiate Running Association is filling a void and creating opportunities that will financially allow more student athletes a chance to continue in the sport." http://www.hansons-running.com/
The formation of the Association has been applauded by coaches to include Russell Smelley, head track & field/cross country coach at Westmont College which is an NAIA member, "The Collegiate Running Association is tapping into a wellspring of collegiate age runners who enjoy running but do not have the time to invest in varsity athletics or are not accomplished enough to participate. The College Running Association provides an outlet for the competitive nature of this segment of the national student body. This is a creative generation of students and this type of athletic training and competition will be appealing as it goes outside the collegiate athletics box."
North Carolina State University Assistant Track & Field/Cross Country Coach Chris Seaton says, "The formation of the Collegiate Running Association is a great step forward in expanding the competitive sport of running at the collegiate level.  Between providing opportunities in branches of the sport not currently covered by the NCAA and opening up participation to all students enrolled in college, the base of the sport is broadened while also providing competitive events."
Echoing these sentiments is Mike Cox, head track & field/cross country coach at Concord College, "I think this is long over-due for our sport. The Collegiate Running Association gives so many athletes an opportunity to compete at a very high level on a great stage.  The extremely diverse mixture of athletes this would give opportunities to is very exciting."
The Collegiate Running Association's first national championship will be announced on Tuesday, December 3. Taylor is more than enthusiastic about the impending announcement. He says, "The race we are partnering with has guaranteed $10,000 ($5,000 for men/$5,000 for women) in prize money. We believe we could be the first running organization to offer prize money specifically for college students. Some people are calling that concept radical…we believe it's simply – visionary!"