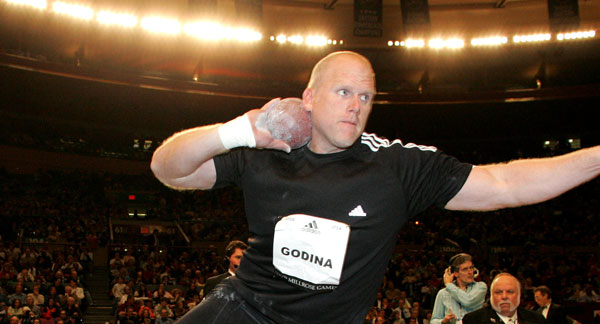 USA Track & Field on Wednesday announced that all-time track and field greats John Godina, Kenny Harrison, Steve Williams, Eleanor Montgomery and legendary coach Bob Larsen will make up the 2013 class to be inducted into the National Track & Field Hall of Fame.
The group makes up the 40th overall class to be inducted into the National Track & Field Hall of Fame and will be honored on Saturday, December 7, at the Jesse Owens Hall of Fame Banquet, which is a part of the USATF Annual Meeting at the J.W. Marriott in Indianapolis, Ind.
Godina, a two-time Olympic medalist and three-time world champion in the shot put, and Harrison, the 1996 Olympic gold medalist and American triple jump record holder, highlight the class as modern athletes inductees, which include those retired within the past 25 years.
Williams and Montgomery will represent the 2013 class as veteran athlete inductees, which include those who have been retired for 25 years or more. Williams set the world record in the 100-yard and 100-meter dashes a total of six times during the 1970s and held world records in the 220-yard dash and 4x100m. One of the original members of the Tennessee State Tigerbelles that dominated women's athletics before Title IX, Montgomery is a two-time Olympian and won a total of 13 national indoor and outdoor titles in the high jump.
Legendary coach Larsen was named NCAA track and field or cross country coach of the year four different times at UCLA before coaching Meb Keflezighi to the 2004 Olympic silver medal in the marathon. Larsen was selected in the coaches category.