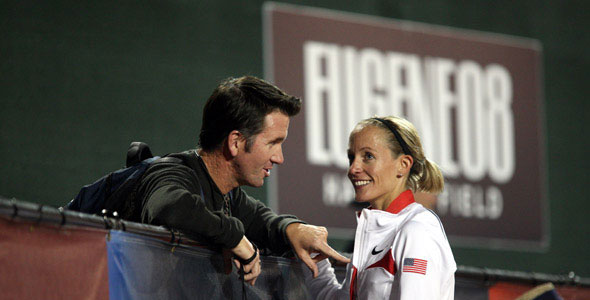 BOSTON – Terrence Mahon has joined the Boston Athletic Association to lead and coach a high performance distance running initiative for the organization. The club will continue to be sponsored and supported by adidas, which has been the club's sponsor since 1992. Adidas has been the athletic footwear and apparel sponsor of the Boston Marathon, the B.A.A.'s premier event, since 1989.
Mahon is considered a top middle distance and distance running coach, and he is credited with having developed or coached eight Olympians since 2005.
He began his coaching career in 2003 with renowned endurance coach Joe Vigil serving as a mentor to Mahon. In 2003 and 2004, Mahon offered private coaching under his company Spiridon Running, LLC, prior to taking charge of Team Running USA, the elite group which would later become the Mammoth Track Club. Most recently, Mahon was employed by UK Athletics in England, where he served as Lead Endurance Coach.
At the B.A.A., Mahon will work with Michael Pieroni to create a high performance running program consisting of U.S. athletes. Mahon will recruit and coach the high performance athletes, and Pieroni will continue to be the director of the entire club. Mahon, along with the athletes who will comprise the high performance group, will be based in Boston. Club members will compete under the B.A.A. name and affiliation.
"The B.A.A. has a rich history of athletic excellence, both in terms of events and club membership, and I look forward to developing the next generation of top Americans who will compete wearing the Unicorn," said Mahon. "The athletes who will run for the B.A.A. in this program will represent one of this country's oldest and most prestigious running clubs, and our group will be the newest contributor to the already strong legacy of running in Boston."
Mahon officially begins with the B.A.A. in October, and the program will launch shortly thereafter. It is anticipated that the first athletes will join the club by January 2014.
"The B.A.A. is committed to supporting running for both participation and performance, and we are pleased to introduce this program which will provide opportunities at the highest level of our sport," said Tom Grilk, B.A.A. Executive Director. "Terrence, our new athletes and this program reaffirm our mission to promote the sport. This performance group will focus on elite competition; through the program, we will inspire up-and-coming runners both locally and nationally. We also hope that these athletes will serve to inspire an increased community focus on the benefits of fitness for everyone."
Athletes who become part of the program will receive a range of benefits as the club seeks to develop Americans into top runners at several distances. Athletes will compete in track and field or in road races, and Mahon aspires to have club athletes compete in national championships, the U.S. Olympic Trials, the IAAF World Championships and the Olympic Games.
"Terrence comes to the B.A.A. with a proven record of having successfully developed and coached high performance athletes," said Pieroni, who will work with Mahon to design and implement the B.A.A. program. "Our objective is to create a well-supported group of top performing athletes who will live, train and be coached towards the goal of representing the United States at international competitions."