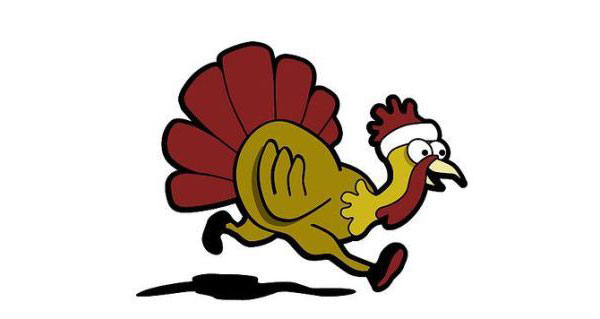 MIAMI – Runners as young as two years old and as old as 81 converged en masse on Tropical Park in Miami Thanksgiving morning to participate in what has become an annual tradition for the fitness set — the Baptist Health South Florida Turkey Trot presented by Publix.
More than 6,000 participants competed at the 10K or 5K distance with kids running races ranging from 100 meters for two and three-year-olds to 600 meters for eight and nine-year-olds.
The event was for both serious and recreational runners.
Local standouts Bryan Sharkey and Bryan Huberty battled it out in the front for the 10K crown. Sharkey finished in 32 minutes, 43 seconds and Huberty finished 40 seconds behind.  Mark Allen won the 5K race in 14:59.
But more than anything, the massive turnout on Thanksgiving morning was a statement that the Run Miami movement of the past several years continues to experience momentum.
"The Turkey Trot is growing every year," said Javier Sanchez, General Manager of the South Florida Division of US Road Sports. "People love getting up on Thanksgiving morning and having an active activity with their entire family. We had families come out with multiple generations — parents, kids and grandparents. It's a great way to begin one of the most enjoyable days of the year for so many people."
This year, the Baptist Health South Florida Turkey Trot presented by Publix also partnered with Camillus House, South Florida's oldest and continually running charity, to help the poor and homeless in need of Thanksgiving meals collect canned goods from runners and their guests on race day.
Baptist Health South Florida Turkey Trot
Miami, FL, Thursday, Nov. 28, 2013
10K RESULTS
1     Bryan Sharkey           26    0:32:43
2     Bryan Huberty           34    0:33:23
3     Victor Delrosso         29    0:34:33
4     Oriol Gili Rico         30    0:34:41
5     Manny Garcia            19    0:36:25
6     Tim Reimink             34    0:36:44
7     Abidan Grunewald        46    0:37:21
8     Ramon Palomo            32    0:37:53
9     Armando Noguera         16    0:37:54
10    Marco Del Castillo      41    0:38:26
11    Jonathan Mederos        28    0:38:27
12    Jonathan Jannarone      47    0:38:42
13    Dante Figueroa          22    0:39:04
14    Marcelo Arenaza         30    0:39:12
15    Miguel Nieves Ll        19    0:39:23
16    Andy  Ransford          33    0:39:38
17    Roger Ortega            41    0:39:45
18    Aldo  Aguilar           16    0:39:46
19    Jonathan Friedland      44    0:39:58
20    Rafael Soto             43    0:39:59
5K RESULTS
1     Mark Allen              23    14:59
2     Robert Novak            27    15:28
3     Geoffrey Zelek          20    16:04
4     Craig Donnelly          28    16:24
5     Fabian Delgado          19    16:50
6     Dominick Cabrera        21    16:52
7     Tomas Gimenez-Beron     16    17:09
8     Leonardo Rodriguez      15    17:20
9     Albert Pelaez           25    17:30
10    Julian Sanabria         16    17:34
11    Antonio Arzola          17    17:44
12    DanielaEspino           23    17:44
13    Paola Reategui          26    17:44
14    Shawn Johnson           34    17:49
15    Renato Delvecchio       30    17:53
16    Marcos Garcia           17    17:58
17    Jeffrey Serna           15    17:59
18    Frank Green             54    18:00
19    Christopher Barkas, Jr. 17    18:08
20    Daniel Pierce           19    18:10