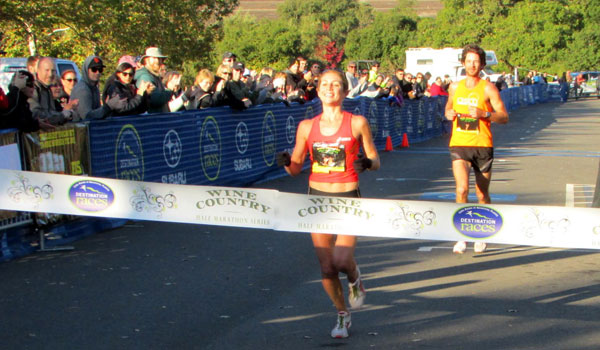 HEALDSBURG, Calif. – Saturday, Oct. 25, 2014 – Sergio Reyes of Palmdale, Calif. and repeat winner Sara Hall of Flagstaff, Ariz. won the 7th edition Healdsburg Wine Country Half Marathon on Saturday, October 25. Sponsored by Newton Running and produced by Destination Races of Sonoma, the wine harvest and Halloween themed race hosted 2,400 runners from 40 states and 6 foreign countries. This late October run passed 25 wineries – two with wine stops – and featured a costume contest for runners at the post-race Wine & Music Festival. A much-needed fall rainstorm sporadically showered the runners on the new, tougher course, which didn't seem to negatively effect the winners.
Reyes, a fixture on the podium in the wine country half marathon series, completed the course in one hour, 7 minutes, 53 seconds, besting 2nd place finisher Ivan Medina of Hayward, Calif. in 1:09:55 and Alex Wolf-Root of Santa Rosa in 1:10:11. Hall, who ran a victorious debut half marathon last year at this race, finished with a time of 1:12:54, outpacing 2nd place finisher Kim Conley of West Sacramento (Hall and Conley were once high school cross country teammates) in 1:15:41 and Yiou Wang of San Anselmo in 1:19:14.
The new half marathon (13.1 miles) course kicked off at 7:30 AM at the soon-to-be named winery currently known as the Home of the White Doe off Canyon Rd and finished at Trentadue Winery. As a lighter alternative, runners were able to opt for the Hallowine 5K that started at 8:40 AM at Mazzocco Winery and followed the final 3.1 miles of the half marathon route, also finishing at Trentadue Winery for the post-race celebration.
Sara Hall is a native of Santa Rosa and ran for Montgomery High School, winning four individual state cross country titles, three state track titles (1600m and 3200m) and the Foot Locker National High School Cross Country Championships in 2000. She is a seven-time All-American from Stanford, finishing runner-up in the 5,000 and indoor 3,000 meters and 3rd in the 2003 Women's Cross Country Championships. Sara is a three-time Olympic Trials Finalist, a Pan American Games Gold Medalist, and the 2012 US National Cross Country Champion.
2nd place finisher Kim Conley is 2012 Olympian and two-time US 10K champion who also attended Montgomery High School, where she had a distinguished cross country career. She attended UC Davis and became one of the school's most decorated female distance runners of all time. She continues to coach UC Davis athletes. Conley definitively emerged on to the professional running scene at the 2012 Olympic Trials in Eugene, Oregon.  "I've always wanted to run a half marathon, and I am looking forward to running another, as this course has truly whetted my appetite for more," said Kim after her half marathon debut.
Voted best destination race in the Pacific West  by Competitor, the Healdsburg Wine Country Half Marathon has a near cult-like following, attracting runners from all over the country to run in costume in celebration of this end of wine harvest and Halloween-themed race.
This point-to-point course weaved its way through the Dry Creek and Alexander Valleys in one of the world's most dynamic wine regions. All half marathon finishers received a finisher's medal (recently noted by Runner's World as one of the best race medals), a technical shirt and an exclusive Riedel wine glass to take with them to partake in the popular Wine + Music Festival which was immediately adjacent to the finish. The top three finishers in each age group received a bottle of wine. The Wine & Music Festival at Trentadue included wine tasting from 20 local vintners, live music from T-Luke and the Tight Suits, awards ceremony and costume contest, Lagunitas Brewing Co. beer garden, food trucks, exhibitors and product sampling from 9:30am – 12:15pm.
Runners were encouraged to dress up for the costume contest that followed the race and preceded the race awards ceremony. Winners of the costume contest were a police office and jail breaker in the individual/duo category and Dr. Seuss's "11 Things" won the group costume contest. Team Hall In won the Team Challenge. Team Haekes defended their trophy for the Winery Challenge. The Hallowine 5K winners were Jonathan Sees for the men and Ro Torckler for the women.
"Despite the rain, it was no surprise Sergio and Sara topped their respective fields," says Matt Dockstader, Race Director of Destination Races.  "They are both exceptionally strong runners who seem to thrive on these winding wine country courses."  This year's guest speaker and runner was ultra-marathoner and author Dean Karnazes.  Dean just returned from his recent trip to Greece where he ran in the Spartathlon, a 153-mile journey from Athens to Sparta, originally run by Pheidippides in 490BC, just before the Battle of Marathon.  Dean embraced the spirit of the Halloween theme and ran the race in his Pheidippides costume, which he also while competing wore in the Spartathlon.