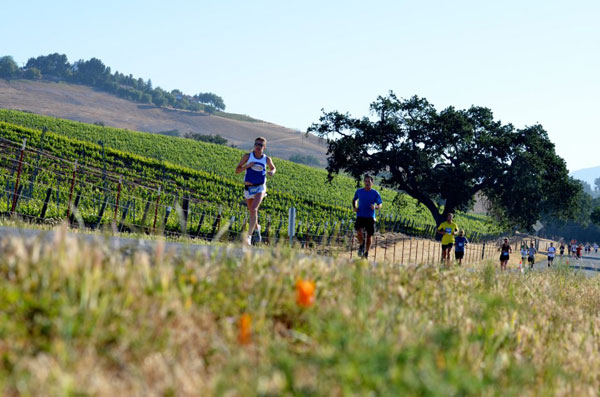 SANTA BARBARA, CA (May 10, 2014) – Sergio Reyes and Amanda Scott won the Santa Barbara Wine Country Half Marathon, presented by Newton Running, on Saturday, May 10 under brilliant blue skies and perfect running weather. The sold out race produced by Destination Races of Sonoma, drew 3,000 runners from 45 states and 10 foreign countries to the Santa Ynez Valley.
Reyes, from Palmdale, CA lead from start to finish and completed the scenic 13.1 mile course in 1:08:56. Mark Batres from Pomona, finished 2nd with a time of 1:10:54.  Winning the event was no small feat for Reyes, who won the Flying Pig Marathon In Cincinnati just last Sunday. "I knew it would be a tough run today having run the marathon last Sunday," said Reyes. "I had some muscle tightness, but I really like this course and Destination Races, so I keep me coming each year."  Reyes also won the 2012 and 2013 Santa Barbara Wine Country Half Marathons.
Scott, who lives in Boulder, Colorado, was running her first Wine Country Half Marathon and finished in a sprint to beat the course record with a time of 1:18:38. Natalie Como from Phoenix, AZ, finished 2nd in 1:21:47. "It was an incredibly beautiful course, and the runners are so upbeat and happy here," said Scott. "The course had a few hills which kept the race interesting. I thought the entire experience was fantastic."  Scott won $1,100 cash, a magnum of wine, and a decanter by Riedel for her victory and course record.
Now in its eighth year, this popular Mother's Day weekend event features a scenic 13.1-mile course running from downtown Santa Ynez through Los Olivos into Solvang. As a special treat for runners, legend Mary Decker Slaney, paced the women on an Eliptigo cycle.  Slaney, a record-holder in multiple distances, no longer competes as a runner due to injuries but regularly rides the Eliptigo to stay in shape.  The race also featured an on-course wedding, accompanied by music from cellist Eileen Moon from the New York Philharmonic, a wine station at mile 6, and a post-race Wine & Music Festival featuring 17 local wineries, Firestone Brewing Company, the awards ceremony and live music from the band Spun Honey.
Destination Races, of Sonoma, Calif., produces the Wine Country Half Marathon Series. The Wine Country Half Marathon series consists of seven races: Santa Barbara, Northern Virginia, Napa-to-Sonoma, Oregon (Willamette Valley), Kelowna, B.C. Healdsburg, and Temecula Valley, CA.
Photo: The start of the 2014 Santa Barbara Wine Country Half Marathon in Santa Ynez. Credit: TJ Nelson
8th Santa Barbara County Wine Country Half-Marathon
Santa Ynez Valley, CA, Saturday, May 11, 2014
Men
1. Sergio Reyes, Palmdale, 32 1:08:56
2. Mark Batres, Pomona, 29, 1:10:57
3. Nicholas Bowden, Santa Monica, 42, 1:16:23
Women
1. Amanda Scott, Boulder, CO, 1:18:38
2. Natalie Como, Phoenix, AZ, 24, 1:21:47
3. Cindy Abrami, Santa Barbara,  45, 1:25:39