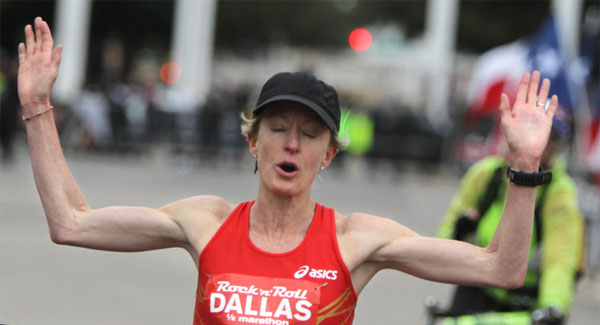 DALLAS (March 23, 2014) – Deena Kastor took the streets of Dallas by storm on Sunday morning. Amid chilly and windy conditions, the 41-year-old three-time Olympian and American record-holder turned in the fifth-fastest half-marathon time by a U.S. runner in 2014 with a new course record at the Rock 'n' Roll Dallas Half Marathon on Sunday.
Kastor, the Olympic bronze medalist in the marathon in 2004, covered the 13.1-mile course in 1 hour, 11 minutes, 57 seconds. Along the way, she also set new U.S. masters records for 10 miles (55:13) and 20K (1:08:18). She narrowly missed the U.S. masters half-marathon record (1:11:50) set by Colleen De Reuck in 2006.
Julius Kiptoo, a 36-year-old Kenyan who lives in Ohio, took first place in the men's half marathon, crossing the finish line in 1:06:02—just 2 seconds faster than second-place finisher Colby Lowe, a former Oklahoma State All-American runner from Southlake, Texas.
The fifth edition race, which had more than 13,000 participants, started downtown near City Hall and finished at Fair Park. After touring some of Dallas' most notable hot spots and neighborhoods, runners gathered to celebrate the day with the band American Authors' headlining performance at the finish line festival concert in Fair Park. All runners enjoyed the sounds of live, local bands playing along the course as motivation and entertainment, along with enthusiastic cheerleaders and thousands of cheering spectators.
Kastor, a 25?time U.S. champion, ran the entire race with no other contenders in sight. The second woman to cross the finish line was Dallas native D'Ann Mineo (1:18:28), followed by Emily Field, also from Dallas, who placed third (1:18:49).
"Once I realized in the first couple miles of the race how windy it was I wasn't really focused on the records, but rather putting my head down and giving it my best today performance-wise, which is what we expect as runners every time we get out there," Kastor said. "I just forgot about the records and just tried to run tough against the wind. When I got to 10 miles and saw I got the record, I got excited and it continued it pushed me through the last 3.1 miles of the race.
Last year, Kastor placed third at the LA Marathon in 2:32:39 and then went on to place ninth in the marathon at the IAAF World Championships in 2:36:12. Although she said that might be her last high-level marathon, she's certainly still among the best half-marathoners in the U.S. To date, only Molly Huddle (1:09:04), Serena Burla (1:10:48), Desiree Linden (1:11:37) and Adriana Nelson (1:11:50) own faster half-marathon times than Kastor this year.
"As a competitive runner, a win is always a wonderful weekend, and to do it here at the Rock 'n' Dallas Half was really special," Kastor added. "It was my first race back since the World Championships last summer, so it was a great celebration of health and fitness on the streets of Dallas this morning."
Kastor, the U.S. women's record holder for the marathon (2:19:36) and half-marathon (1:07:34), has rarely raced in Texas since she finished up her collegiate career at the University of Arkansas, where she was a four-time SEC Champion and an eight-time All-American. She placed sixth in the 2012 U.S. Olympic Trials Marathon in Houston.
"It's such a pleasure any time that Deena runs one of our races, or any race for that matter," said Tracy Sundlun, SVP and co-founder of the Rock 'n' Roll Marathon Series. "She's one of the greatest to ever participate in our sport, on and off the field, and we're thrilled she set her first two Masters records at Rock 'n' Roll Dallas."
It was a neck-and-neck race for Kiptoo and Lowe, who both maintained about a 5-minute mile pace and traded spots for first place throughout the entire race. Kiptoo was in the lead until mile 3, when Lowe inched himself in front. The two raced tightly together until Kiptoo ultimately took off at mile 8, creating a 10-second gap between him and Lowe. It was a tight race to the finish as Kiptoo won by 2 seconds. Enoch Nadler from Richardson, Texas, placed third in 1:06:58. Nadler ran 57 seconds faster at last year's race, landing him second place at the 2013 event.
Overall first-place winners in the men's and women's races both won $250, and an additional $500 Performance Bonus offered to any participants who finish under 1:05:00 (men) and 1:15:00 (women), regardless of place. The new Dallas Metroplex prize purse ranged from $1,000 to $100 for the top-five local residents.
"We were delighted with the depth and quality of the Dallas Metroplex field and beyond," Sundlun added. "This year we launched a new prize structure that focuses on supporting the Dallas Metroplex runners. We were pleased to see how many locals participated and how well they ran."
"The course was an awesome showcase of Dallas and I had an amazing three days in the city," Kastor said. "Beyond the win, a highlight was definitely getting my picture taken with Dallas Cowboys Cheerleaders, but it's also just been a great festival of running and racing. This sport can make such a postivie impact on so many people's lives."
5th Rock 'n' Roll Dallas Half Marathon
Sunday, March 23, 2014; Dallas, TX
MEN
1. Julius Kiptoo, 36, Kenya, 1:06:02 – $250
2. Colby Lowe,  24, Southlake, TX, 1:06:04 – $1000
3. Enoch Nadler, 28, Richardson, TX, 1:06:58 – $750
WOMEN
1. Deena Kastor, 41, Mammoth Lakes, CA, 1:11:57 – $750 ($250 for overall; $500 performance bonus)
2. D'Ann Mineo, 26, Dallas, TX, 1:18:28 – $1,000
3. Emily Field, 32, Dallas, TX, 1:18:49 – $750
Dallas Metroplex Prize Purse – Men
1. Colby Lowe, 24, Southlake, TX, 1:06:04 – $1000 (2nd place overall)
2. Enoch Nadler, 28, Richardson, TX, 1:06:58 – $750 (3rd place overall)
3. Barnabas Kirui, 28, Dallas, TX, 1:07:06 – $500 (4th place overall)
4. Logan Sherman, 28, Dallas, TX, 1:08:31 – $250 (6th place overall)
5. Derek Yorek, 30, Fort Worth, TX, 1:10:32 – $100 (7th place overall)
Dallas Metroplex Prize Purse – Women
1. D'Ann Mineo, 26, Dallas, TX, 1:18:28 – $1,000 (2nd place overall)
2. Emily Field, 32, Dallas, TX, 1:18:49 – $750 (3rd place overall)
3. Stefanie Slekis, 26, Denton, TX, 1:22:42 – $500 (4th place overall)
4. Mary Alico, 50, McKinney, TX, 1:25:02 –$250 (9th place overall)
5. Amanda Mangelsdorf, 29, Dallas, TX – 1:26:40 (10th place overall)