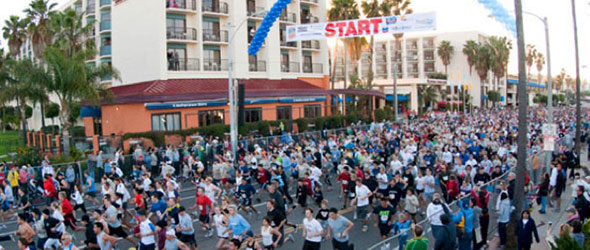 Running USA, the national non-profit trade organization for running events and businesses, announced today that it will seek to raise $50,000 to fund grant awards that support under-funded running programs.
Running USA has a strong history of supporting other non-profit running entities, but CEO Rich Harshbarger explained that this year's fundraising effort is different: adopting a grassroots approach open to donors at all funding levels, Running USA is asking anyone who loves runners and the sport of running to join them in supporting this great cause.
"Previously, we've held an auction at our annual conference to raise money for these grants, but we realized that such an approach wasn't reaching the huge numbers of contributors who want to support some of running's most underfunded, yet truly exceptional, teams and programs," said Harshbarger. "This approach gives everyone whose life has been touched positively by running the chance to give back to the sport they so enjoy."
The grants that will be supported by the fundraising effort include: The Allan Steinfeld Development award, which supports one elite distance training organization annually, and the Running USA Youth Program of the Year and Youth Event of the Year. In the past, the Allan Steinfeld Award has been $25,000 and the two youth awards have each been $5,000. Dependent on the fundraising results, Running USA hopes to increase the number of grants awarded.
Several coaches whose programs have received grants from Running USA provided insight into how the funds helped:
"The grant gave us a year in which we did not have to worry day to day, week to week about where and how we would get our bills paid in order to serve our athletes. For the first time it gave ZAP a cushion and allowed us to spend more time on development. This grant changed our group immensely," said Peter Rea, head coach and founder of ZAP Fitness, awarded the Allan Steinfeld award in 2013.
"The grant money enabled me to scholarship many more runners who could not afford to enter our event. I always provided scholarships in the past but was able to do more this year," said Lisa Rainsberger, founder of Kokopelli Kids, a trail running series that was named the 2014 Youth Event of the year.  "Kokopelli Kids helps kids discover their passion for running."
Running USA will award the 2015 grants at its annual conference, scheduled for New Orleans, La., from Feb. 9-11. Funding is provided exclusively by donations, which are tax deductible. Support our deserving youth runners and Olympic hopefuls. Donate today – fundraising closes Feb. 1, 2015.