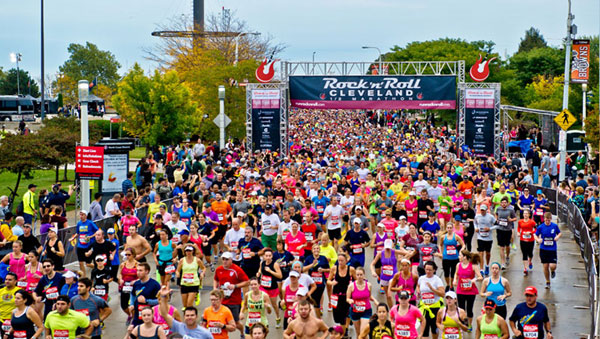 CLEVELAND – (October 6, 2013) – Runners gathered downtown to enjoy live bands and cheerleaders along the inaugural Rock 'n' Roll Cleveland Half Marathon course on Sunday. More than 7,000 participants from 47 states and 7 countries celebrated the day with a performance by Gavin DeGraw at the Finish Line Festival in front of Horseshoe Casino.
Ohio residents stole the show at the front of the pack. Aaron Apathy from Westlake started out of the gates fast, running tight with David Carter until Apathy used the first hill at mile 4 to make a move. With no other contenders in sight at mile 10, Apathy took first place in 1 hour, 12 minutes, 44 seconds. Carter, from nearby Lakewood, placed second a few minutes behind in 1:17:05 and Dustin Sprague placed third with a time of 1:18:14.
"I really enjoyed the race," said Apathy, who is training for the Columbus Marathon in two weeks. "I'm starting to taper from my marathon training so my legs are a little beat up, but I felt pretty good out there today. You have to stay focused being on the course by yourself but the hills, music and cheerleaders give you a bit of distraction."
Kelly Green from Burton placed first in the women's half-marathon with a time of 1:23:19, while Heidi Greenwood from Cleveland was two-minutes behind in 1:25:34. Third place went to Beth Cicerchi from Cleveland Heights, who finished in 1:30:04.
"Participants truly had the ultimate Rock 'n' Roll experience with a start at the nostalgic Rock and Roll Hall of Fame, a 13.1 mile course showcasing local bands and a post-race concert headlined by Gavin DeGraw in front of the Horseshoe Casino," said Natalie Miyake, event manager. "It really is the perfect city to bring the Rock 'n' Roll Series and we've had nothing but positive feedback from the runners."
Six official charities participated on race day including, the Rock 'n' Roll Hall of Fame, St. Jude Children's Research, Leukemia & Lymphoma Society's Team in Training, Prayers from Maria Foundation, Juvenile Diabetes Research Foundation (JDRF) and Hope Worldwide Cleveland. Collectively the charities raised more than $100,000.
Rock 'n' Roll Cleveland showcased the city's lakefront views and notable landmarks including Progressive Field, Cleveland Browns Stadium, Quicken Loans Arena and the Great Lakes Science Center, among other attractions. The course also toured notable neighborhoods including Tremont West, Ohio City and The Flats. The 13.1-mile and 3.5-mile races weathered windy conditions but luckily avoided any of the heavy rain in the forecast.
In true Rock 'n' Roll Marathon fashion, the Cleveland event featured live local bands, with several hand-picked by the Rock and Roll Hall of Fame, performing on stages along the scenic course. Additionally, cheerleaders and themed water stations were interspersed throughout the course.
Inaugural Rock 'n' Roll Cleveland
Cleveland, OH, Sunday, October 6, 2013
MEN
1) Aaron Apathy, 28, Westlake, OH, 1:12:44
2) David Carter, 24, Lakewood, OH, 1:17:05
3) Dustin Sprague, 38, Kettering, OH, 1:18:14
4) Kevin Craigo, 28, Columbus, OH, 1:18:40
5) Kevin Jones, 44, Brecksville, OH, 1:24:07
WOMEN
1) Kelly Green, 31, Burton, OH, 1:23:19
2) Heidi Greenwood, 28, Cleveland, OH, 1:25:34
3) Beth Cicerchi, 28, Cleveland Heights, 1:30:04
4) Beth Woodward, 38, Orrville, OH, 1:30:18
5) Brandi Dawson, 40, Westlake, OH, 1:34:14