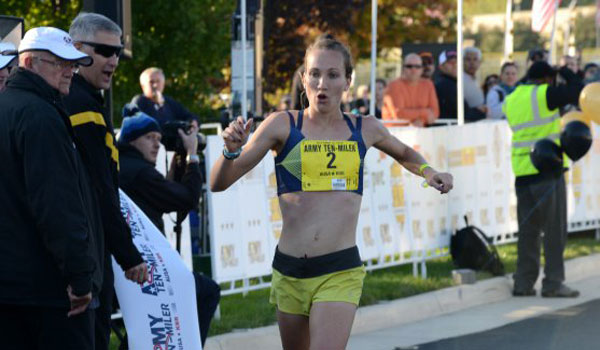 ARLINGTON, Va. – Sunday, Oct. 12, 2014 – Remember the movie, "Groundhog Day?" Watching the 30th running of the Army Ten Miler today was like reliving the 29th edition of the race – nearly verbatim.
The same Brazilians who went 1-2 in the men's race last race went 1-2 in the men's race this year. They ran virtually identical races as last year, save for the fact that they ran considerably slower today under perfect conditions versus last year's chilly temps. The Brazilians also repeated their 1-2-3 sweep of the race.
The same woman – Arlington native Kerri Gallagher – who set the course record last year in winning the nation's second largest 10-miler broke her own record this year by six seconds in 54 minutes, 50 seconds, running a bit faster than her winning times of the previous two years and doing it solo for the last nine miles of the course.
And nearly the same number of runners actually made it to the finish this year – 26,238, out of more than 35,000 entrants.
With no money but solely pride on the line, elite runners flock to this annual 10-mile footrace which begins and ends at the Pentagon and takes runners on a made-to-order tourist trip through the streets of the city of Washington past many of the nation's most revered landmarks.
The Brazilians have made Army their tourist destination since 2007. Their appearance has added some excitement for the Army's World Class Athletes Program (WCAP), who have competed with their Latin American military counterparts for the top team prize.
In the end, it was Brazilians Solonei da Silva (48:28), Paulo Roberto Paula (48:29) and Franck Almeida (48:32) scoring the sweep ahead of fourth-place Aron Rono of the WCAP program out of Beaverton, Ore., who clocked 48:45.
"This race is very important to us," said Rodrigo Lameira, coach of the Brazilian team which has won the team competition in 2007-2009 and 2013."We come back every year to this competition to prove our training, our spirit of competition."
No doubt the training has been good. From the gun, the three Brazilians, all in their low to mid 30s, were in contention in a large pack which allowed Ethiopian Siraw Gelaw to enjoy a sizable lead through three miles. He was finally caught at the Kennedy Center and became part of group of 15-16 runners which included the three Brazilians, four WCAP runners, and Chris Kwiatkowski, who last tried to break the Brazilians with a surge at eight miles but came up short in fourth.
The pack passed five miles in a pedestrian 25:41, which is why the lead group was so large. Again, it wasn't until after eight miles, back on the Virginia side of the course in Crystal City, that the three Brazilians and this time Rono separated from the rest.
Da Silva quickened to a 4:41 last mile to barely outlast Paula. "He was very strong at the end," Lameira said. "He knows he is faster than Paula." Rono, fifth here last year, followed shortly after.
Like last year, no such dramatics for Gallagher. She had some company in the first mile from Caroline Jepleting, the Texas Tech grad who had flown in Thursday from Landstuhl, Germany where she is stationed. From there it was a solo run for Gallagher, passing the midway point near the Washington Monument in 27:08 with Jepleting some 24 seconds behind.
Gallagher slowed somewhat over the second half of the course, but it hardly mattered in the overall standings as she outran Jepleting by nearly two minutes.
"It was tough just like the other two," said Gallagher, 25. "5:30s was my goal this year but I ended up running 5:18 to 5:34 miles today. After a mile, I took the lead and I never looked back. I was too scared to look back."
Jepleting, 28, was second in 56:34 with a four-minute personal best while 28-year-old Caitlin Bullock, an Army Ten Miler frequent flyer from Durham, NC, was third in 57:17.
Masters winners were Philippe Rolly, 41, of McLean, VA (53:24) and Perry Shoemaker, 43, of Vienna, VA (58:07).
Some 11 shadow runs took place overseas with 8,500 participants running in locations including Afghanistan, Cuba and South Korea.
30th Army Ten Miler
Arlington, VA, Sunday, Oct. 12, 2014
Men
1. Solonei da Silva, BRA, 48:28
2. Paulo Roberto Paula, BRA, 48:29
3. Franck Almeida, BRA, 48:32
4. Aron Rono, USA/OR, 48:45
5. Nicholas Kipruto, USA/TX, 48:51
6. Augustus Maiyo, USA/CO, 48:51
7. Hillary Bor, USA/CO, 48:52
8. Laban Sialo, USA/CO, 48:58
9. Ben Payne, USA/FL, 48:58
10. Samuel Kosgei, USA/KS, 48:59
Masters Men
1. Philippe Rolly, 41, USA/VA, 53:24
2. Darryl Jewell, 45, USA/CA, 55:1
3. John King, 46, USA/NY, 55:36
Women
1. Kerri Gallagher, USA/VA, 54:50 (new course record)
2. Caroline Jepleting, USA/NY, 56:34
3. Caitlin Bullock, USA/NC, 57:17
4. Mahlet Behailu, ETH, 57:35
5. Perry Shoemaker, USA/VA, 58:07
6. Meagan Nedlo, USA/MA, 58:09
7. Susan Tanui, USA/KS, 58:27
8. Samantha Diehl, USA/VA, 58:40
9. Tezata Dengersa, ETH, 58:44
10 . Amy Laskowske, USA/VA, 58:48
Masters Women
1. Shoemaker, 43, USA/VA, 58:07
2. Barbara Fallon Wallace, 40, USA/VA, 1:01:36
3. Kimberly Fagen, 44, USA/MD, 1:03:43