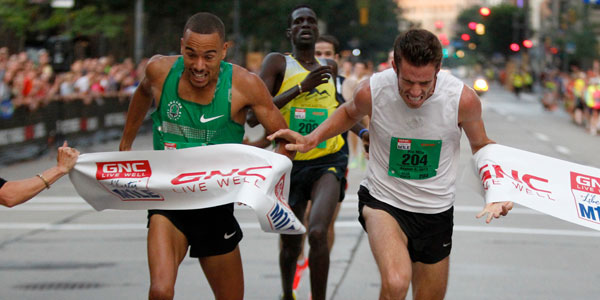 PITTSBURGH, August 1, 2014 – At the third GNC Live Well Liberty Mile on Friday, Aug 1 in downtown Pittsburgh, the American Development Program pro races ended in two thrilling finishes as Jordan McNamara of Eugene, Ore. and Gabriele Grunewald of Minneapolis, Minn. used closing bursts to edge their respective fields. McNamara clocked 4 minutes, 3 seconds and Grunewald finished in 4:32, tying Heather Kampf's event record set last year.
In the City of Champions on a warm summer evening, the women's field was taken out by Sarah Brown on the u-shaped road course run on Penn and Liberty Avenues. With a quarter mile remaining, Brown and Lauren Penney were together at 3:27 with the rest of the field right behind. In the final 100 meters, Grunewald and Kampf moved past Brown for the final sprint with Grunewald, 28, just edging two-time defending champion and Team USA Minnesota teammate Kampf, 4:31.68 to 4:32.12 (road times are converted to the next full second).
"I love a downhill finish and I executed my plan until the final stretch," said Grunewald, who earned $4,000. "I knew Heather was going to be there, but I had good leg turnover."
In the men's race, Trevor Dunbar from Eugene, Ore. led the first three quarter miles in 57 seconds, 1:59 and 3:02 as the rest of the field waited patiently to unleash their final sprints. McNamara, a two-time event runner-up in close finishes, finally hit the tape first here as he and 2012 Olympic silver medalist Leo Manzano waged a stirring battle in a photo finish with McNamara beating Manzano by the slimmest of margins, 4:02.93 and 4:02.94 (official time for both was 4:03).
"Wow, I really wanted to win and it took three years in the making," said McNamara. "I was marking Leo, covering his moves in the final stretch; it was like a game of chess. This win was filled with relief and adrenaline."
Post-race, McNamara, 27, played to the crowd as he ran up-and-down the finish line area high-fiving spectators, signing his Big Head poster and taking photos with his many fans and savoring the long awaited victory.
In the earlier Unstoppable wave, two-time Canadian Olympian Nate Brannen finished first in 4:03 with Jimmy Spisak second in 4:06, while the Masters (40 and older) races were won by Daniel Pszeniczny, 46, and Sonja Friend-Uhl, 43, in 4:36 and 4:57, respectively, and both took home $500.
Overall, the third edition, with more than 1,000 participants, featured $25,000, the second largest Mile prize purse in the U.S.
The event was also the fourth stop on the Bring Back the Mile Grand Prix Tour with Heather Kampf leading the women's standings with 18 points and three men – Duncan Phillips, Rob Finnerty and Jordan McNamara – tied for first with 10 points. The next Tour stop is the Michigan Mile on August 22 in Flint, MI. The total prize purse for the six Tour events exceeds $85,000 plus $7,500 for the Grand Prix purse. Per Tour event per gender, top 6 will score points (10, 8, 6, 4, 2 and 1) with the top 4 Grand Prix scorers earning GP money ($2,000, $1,000, $500 and $250)
3rd GNC Live Well Liberty Mile
Bring Back the Mile Grand Prix Tour 2014
Pittsburgh, PA, Friday, August 1, 2014
MEN
1) Jordan McNamara (OR), 4:03, $4000
2) Leo Manzano (TX), 4:03, $2500
3) Trevor Dunbar (OR), 4:04, $1500
4) Jack Bolas (SC), 4:05, $800
5) Jake Edwards (OH), 4:07, $500
6) Daniel Quigley (OR), 4:07, $325
7) Daniel Stockberger (IN), 4:08, $150
8) Brandon Hudgins (NC), 4:09, $100
9) Landon Peacock (VA), 4:10, $75
10) Tony Jordanek (OH), 4:10, $50
WOMEN
1) Gabriele Grunewald (MN), 4:32*, $4000
2) Heather Kampf (MN), 4:33, $2500
3) Sarah Brown (CA), 4:33, $1500
4) Angela Bizzarri (WA), 4:34, $800
5) Lauren Penney (NJ), 4:34, $500
6) Christy Cazzola (WI), 4:37, $325
7) Stephanie Charnigo (NJ), 4:42, $150
8) Stephanie Brown (AR), 4:44, $100
9) Brigitte Mania (NJ), 4:50, $75
10) Melissa Agnew (MN), 4:54, $50
*Tied event record (4:32, Heather Kampf (MN), 2013)
MASTERS (40 and older)
MEN
1) Daniel Pszeniczny (46 / PA), 4:36, $500
WOMEN
1) Sonja Friend-Uhl (43 / TN), 4:57, $500