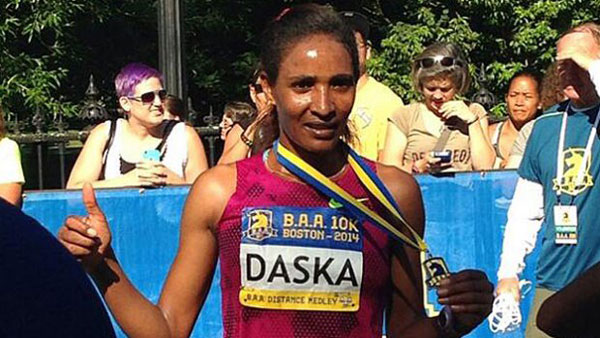 BOSTON – Records tumbled in bunches here at the fourth B.A.A. 10K, as both Stephen Sambu (KEN) and Mamitu Daska (ETH) successfully defended their event titles from 2013.  Sambu, 25, raced his way to a world leading time of 27:25 and set an American All-Comers Road Record (pending) for 8 kilometers en route, while Daska broke Kim Smith's (NZL) event record by finishing in 31:04, also the fastest time in the world this year.
Under crystal clear skies and with temperatures comfortably in the low 60Fs at the start, an event record of 6,619 runners completed the B.A.A. 10K's picturesque course through Boston's Back Bay neighborhood. The B.A.A. 10K was the second event of the 2014 B.A.A. Distance Medley series, a three race series comprised of the B.A.A. 5K in April, the B.A.A. 10K, and the B.A.A. Half Marathon, presented by Dana-Farber Cancer Institute and the Jimmy Fund, in October. More than 2500 runners are registered for the series.
For the second consecutive year, Sambu defeated a past Boston Marathon champion on his way to winning the B.A.A. 10K. Last year, Sambu defeated 2013 Boston Marathon champion Lelisa Desisa (ETH) by nine seconds, winning the 2013 B.A.A. 10K in 28:06. This year, after an opening mile of 4:30, Sambu was joined by Kenya's Geoffrey Mutai, the 2011 Boston Marathon victor, two-time B.A.A. 10K champion (2011 and 2012), and fastest marathoner of all time. Fellow Kenyan Daniel Salel joined the pair as they raced towards Boston University.
Splitting 5K in 13:57 and four miles in 17:45, Sambu and Mutai moved a step ahead of countryman Daniel Salel, and then were poised for a memorable duel over the course's fast and flat second half. All alone out front, two of Kenya's finest road racers readied for the battle ahead.
The day's first record would be broken when the pair reached 8 kilometers, as Sambu crossed the certified mark and official timing mat in 22:02, seven one-hundredths of a second ahead of Mutai. Sambu's time breaks Peter Githuka's previous 8 kilometer American All-Comers time of 22:03, established in 1996 (Kingsport, Tenn.).  The American All-Comers record which Sambu established is the fastest performance made in the United States by any competitor of any nationality.
Bound and determined to break from Mutai and go on to claim the top spot, Sambu didn't relent after setting the 8 kilometer record.
"Our plan from the beginning was to make the pace high," he said. "I didn't even know we set the record for 8K [during the race]."
With less than a mile remaining, Sambu began to edge away from Mutai on Commonwealth Avenue. Maintaining his hard pace through the finish stretch in between the Public Garden and Boston Common, Sambu would stop the clock at 27:25, the fastest 10K in the world run on the roads this year and a personal best by 14 seconds.
"After 8K, I knew I still had to run 2K so I thought 'let me increase the pace' because I was just thinking about finishing," he said, adding that he was beginning to feel tired. Holding on to first and claiming the top spot brought a bright smile to Sambu's face. "It's really good; it makes me feel good."
Finishing second was Mutai in 27:35, who was recognized around Boston all weekend as a Boston champ and the fastest all-time marathoner. Rounding out the top three was Salel in 27:41, while Bo Waggoner, of Somerville, MA, was the top American in tenth (30:48).
With his victory, Sambu becomes the second man ever to win back-to-back B.A.A. 10K titles, a feat Mutai accomplished in 2011 and 2012. Sambu's coach, James Li, believes even faster times are in his future.
"I think he can run a little bit faster still. He's still young at this, relatively," said Li, who has coached Sambu since his days at the University of Arizona. "He's an awesome runner, very steady."
On the women's side, Mamitu Daska became the first female two-time B.A.A. 10K champion in race history. Making a decisive move in the final mile, Daska went on to win in 31:04, shattering Kim Smith's previous event record of 31:36.
In the opening mile, Daska established her intent to win the $10,000 (USD) first place prize and pursue Smith's record, which would net her an additional $7,500 (USD) event record bonus. Pushing the pace with Kenyans Aliphine Tuliamuk-Bolton and Betsy Saina by her side, Daska went through two miles in 9:47.
Tuliamuk-Bolton and Saina, who starred in college at Wichita State and Iowa State, respectively, led the way at 5 kilometers in 15:34, with Daska a second behind.
Biding her time and saving energy, Daska sat back while her Kenyan competitors tried to break up the group. Not letting the hard surges get to her, Daska kept the podium on her mind.
"I know that all the runners are good runners and I have confidence I am going to win. But in the meantime, I was watching them and making sure they weren't going to push and pass me," she said through a translator. "I am so happy my strategy worked."
Daska made the winning move with one mile to go, creating a gap that would grow to six seconds by the finish. With a time of 31:04, Daska recorded the fastest 10K time in the world this year, setting an event record and personal best in the process.
"I didn't expect to run this kind of fast race today," said Daska with a bright smile across her face. "I am so happy I won."
Daska considered the victory particularly meaningful, noting that she thinks of Boston as a second home.
"I love Boston. Coming back, Boston is always an honor for me. Even though what happened last year, everyone knows. Coming to Boston is like a hometown, always people encouraging me, so I am happy that I won again," she said.
"I am thrilled and so happy, I have no words to explain."
If Daska returns to Boston for the B.A.A. Half Marathon on October 12, then she will be eligible for additional B.A.A. bonuses thanks to her runner-up finish in April's B.A.A. 5K, and her victory in 10K here today. Bonuses are awarded to top finishers in multiple B.A.A. events in this calendar year.
Saina and Tuliamuk-Bolton would finish second and third in 31:10 and 31:52, respectively, rounding out the podium. Boston Athletic Association team member Jen Rhines, 39, was the top American (33:45) in eighth, 33:45. Rhines resides in Boston, and lives on the B.A.A. 10K course.
B.A.A. club member Chris Magill, 41, of Cumberland, RI, won the men's masters division in 32:54. Kristin Barry, 40, of Scarborough, ME won the women's masters division with a time of 37:41.
There were nine finishers in today's push rim wheelchair division. Tony Nogueria, 46, of Glen Ridge, NJ, won the men's race in 24:55. Christina Kouros, 19, of Cape Elizabeth, ME, won the women's push rim wheelchair division with a time of 39:36.